While there is no question that
Danica Patrick
brings enormous marketing opportunities to NASCAR the diminutive driver will have to prove herself on the race track.
Until Patrick won the IndyCar race in Motegi in 2008 she was compared with tennis' Anna Kournikova a sexy "star" who hadn't won a major tournament.
Patrick has run 20 races in the Nationwide Series with one top-five finish and three top-tens.
It's no surprise that Sprint Cup drivers happily accept the economic effect of IndyCar's most popular driver moving over, full-time, to their series.
But, as four-time Cup Champion, Jeff Gordon says: "Danica still has to prove herself from the performance standpoint. She's impressed a lot of people in some performances this year, but she still has a long way to go. She's great for the sport. I think it's far more challenging for her than it was for me because I didn't have that many expectations and that many eyes on me."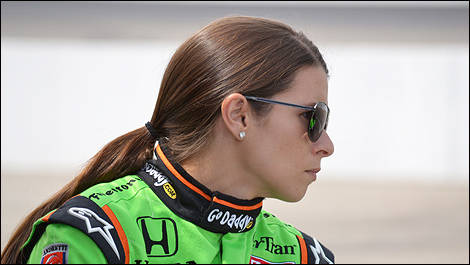 Danica Pattrick (Photo: Rene Fagnan/Auto123.com)
Penske driver, Brad Keselowski, went on Twitter to react to the news last night. A fellow Mid Westerner he may have more in common with Danica than other drivers.
"Growing up racing against girls in quarter midgets, I have no problem with females racing. The sport has always been about mental strength, And raw talent. Not gender, or freak of nature genetics.
Btw, some of the best racers I competed against as a kid were girls.
Although I never raced against Danica growing up I'm sure she was one of those exceptionally talented and skilled girls. Watching some of those girls flame out along the way was always disheartening for me personally."
Keselowski points out that many young women drop out of racing eventually for reasons outside of the sport, like starting a family.
"Kudos to Danica for sticking it out. Most don't. I'll always respect her accordingly."
On the other hand, referring to some of her risqué television commercials and photos in Sports Illustrated, Keselowski thinks it could hurt her credibility in the future, and worse.
"All that said, her assent up the ladder of the sport thru various branding 'techniques' (swimsuit ads etc) only serves to undermine the future credibility of female racers who wish to make it based on skill, mental toughness and a never give up attitude. That to me is wrong.
Essentially, she has opened a pandoras box for all female racers. If she doesn't succeed, no female will get a chance for years to come."