It's a simple, common-sense ideology when it comes to enhancing safety on the go. When drivers keep their eyes on the road and their hands on the wheel, they're afforded plenty of warning about upcoming hazards and able to react quickly to avoid them. This is especially important throughout the winter when icy roads and cold tires mean more time is needed to stop for or steer clear of a situation.
If you haven't been in the new car market for a few years, you'll be delighted at the availability of once-expensive features meant to keep your attention on the road ahead. A variety of hi-tech, fully automatic and voice-commanded systems once reserved for high-dollar luxury cars are now available on most models. They all allow drivers to manipulate vehicle systems and functions without breaking their attention.
Here are a few of the most important top features that keep drivers focused.
Rain-Sensing Wipers
: At any sign of precipitation on the vehicle's windshield, rain-sensing wipers kick into action and adjust their speed constantly in response to the level of precipitation and how fast the vehicle is moving. Whether it's snow, ice or freezing rain, rain-sensing wipers leave drivers with one less thing to think about when the weather turns nasty. Look for rain-sensing wipers in the Mazda3, Mitsubishi RVR and many others.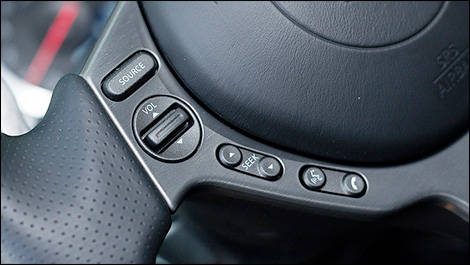 Photo: Sébastien D'Amour

Steering-Wheel Mounted Controls
: More cars than ever offer steering-wheel mounted controls as standard equipment. By putting controls for phone, cruise control, audio systems and even climate control on the face of the steering wheel, drivers can control many functions without having to look down or move their hands -- definitely a top feature that keeps drivers focused.
Bluetooth
: This wireless communication system is now standard (or available as an option) in virtually every vehicle sold in Canada. Bluetooth puts the kibosh on driver distraction related to using a cell phone on the move. After a brief pairing procedure, hands-free phone calls can be placed, accepted or dismissed via voice command and/or a single steering-wheel mounted button. If you're delayed by a snowstorm, Bluetooth allows you to safely call ahead and tell the family you'll be late without pulling over or handling your handset.
Automatic Climate Control
: This top feature that keeps drivers focused s all about staying comfortable, which is a good way to avoid the stress caused by driving in lousy weather. Automatic climate control makes it easy. The system uses a sensor to constantly watch cabin temperatures and make adjustments in real time to maintain a preset temperature. Your comfort is maintained for you automatically as you keep both hands on the wheel.
Automatic Lights
: Simple concept, this one: When it gets dark, the headlights turn on, all by themselves. Forget accidentally driving around with just the running lamps, which is dangerous. Set the controls to AUTO, and you'll have optimal visibility at all times. Best of all, since automatic lights turn off when you leave the car you'll never come back to a dead battery in the middle of winter, either. Some models, like the Chrysler 300 and Mercedes-Benz E-Class, even have automatic high-beams, definitely a top feature that keeps drivers focused.
Voice Command
: Not long ago, voice command was the stuff of sci-fi movies. Today, you can find this top feature that keeps drivers focused in cars like the Honda Civic, Kia Rio and Dodge Dart. In most applications, voice command allows drivers to simply touch a button and say, for instance, "Radio, 92.4 FM," "Navigate Home" or "Call Mom." Hundreds of vehicle functions can be controlled with your voice, furhter enhancing the driver's focus on the road and, therefore, his safety.