Samyang Optics of Korea signed a distribution agreement with
ZAP
, a US company specialising in the selling
electric vehicles
. This agreement provides Samyang with exclusive rights to manufacture, assemble and market ZAP's complete line of electric trucks, vans, motorcycles, scooters and ATVs in Korea.
This announcement was made last week at a special press conference extravaganza event held at the Grand Hilton Convention Center in Seoul, Korea, with over 500 people attending.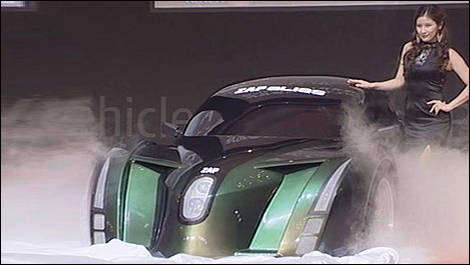 The ZAP Alias electric car will be produced by ZAP's manufacturing partner, China's Zhejiang Jonway Automobile, and distributed my Samyang in Korea.
Samyang is known for its camera lens manufacturing business. The agreement establishes the Korean company as ZAP's exclusive distributor and assembly partner, leading to potential manufacturing for its electric vehicles in Korea. The distribution agreement commits Samyung to set up manufacturing facilities and distribution hubs in Korea with annual procurement quotas.
ZAP (short for Zero Air Pollution) was founded in 1994. This publicly-owned corporation, which has its head office in Santa Rosa, California, manufactures and markets various electric vehicles.
Wide range of products
The electric vehicle bodies, including the ZAP Alias electric car and the recently announced A380 5-door electric SUV (developed by Jonway and ZAP), will be produced by ZAP's recently announced manufacturing partner, Zhejiang Jonway Automobile Co. Ltd. and use the electric power train technology and engineering designed by ZAP and produced by ZAP Hangzhou, the joint venture between ZAP, Holley Group and Better World International.
Samyang's Co-CEO Christopher Kang, MD established the framework of this partnership with ZAP's President Gary Dodd at the North American International Auto Show held recently in Detroit.
Dr. Kang says, "Samyang decided to partner with ZAP because of its extensive industry knowledge in electric vehicle production and the breadth and maturity of its current line of electric vehicles." According to Mr. Dodd, the expansion of ZAP's market through this partnership with Samyang in Korea further solidifies its strategic goals of supplying electric vehicles to global markets.
photo:
Samyang Optics