Watch for coolant leaks on your used Torrent
Pontiac Torrent : Used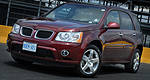 Model:
2006 to 2009 Pontiac Torrent
Vehicle Type:
Crossover SUV
History/Description:
Torrent was Pontiac's entry in what would become a crowded and competitive crossover SUV marketplace. It hit our streets as a 2006 model, alongside the mechanically identical Chevrolet Equinox, to replace the aging Chevy Blazer with a more agile, car-like and efficient machine. Used vehicle shoppers after a decent, relatively large crossover without the high prices of comparable Japanese models will likely gravitate towards it.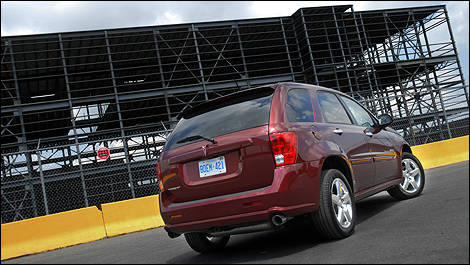 Photo: Matthieu Lambert/Auto123.com
Regardless of configuration, all Torrents came with split-folding and sliding rear seats and a five-passenger cabin. Virtually all models on the used market also got GM's 3.4L, 185-horsepower V6 engine. All-wheel drive was available and a five-speed automatic transmission was standard.
Look for features like a sunroof, power accessories, remote access, a power driver's seat, tinted glass, air conditioning and more.
What Owners Like:
Owners typically appreciated performance in the snow with AWD, as well as Torrent's flexibility, sound system, exterior style and the car-like ride and handling. With a firmer and sportier suspension than the Chevrolet Equinox, Torrent was slightly more engaging to drive.

What Owners Dislike:
Common complaints concern a large turning circle, cheap interior appointments and a noisy engine. Additionally, some drivers complain about heavier-than-expected fuel consumption, though this is no surprise given the standard V6 power.

Common Issues:
In some past applications, GM's so-called '3400' engine was known for a gasket issue caused by unexpectedly corrosive Dex-Cool coolant. Put bluntly, the coolant could dissolve engine gaskets over time, allowing coolant to leak out of the engine, which could result in overheating. Conversely, coolant could be allowed to leak into the engine oil supply, causing a world of other problems.
This issue seems to have been remedied later in the 3.4L V6 engine's life, though it's not absolutely certain when. Coolant leak-related complaints of the Torrent were negligible – though shoppers should still remain cautious.
Check out the coolant overflow reservoir under the hood and look for any dirty or oily sludge-like deposits stuck to the inside of the tank, which could be a warning sign.
Any used Torrent with signs of engine coolant beneath the vehicle or running down the side of the engine should be avoided, too. A GM-trained mechanic should be able to check for the warning signs of this well-documented problem in a few minutes.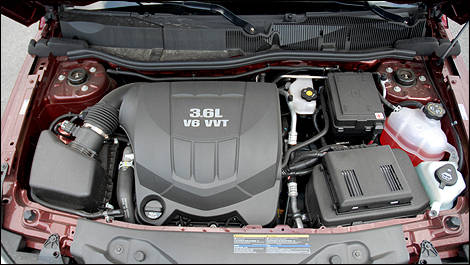 Photo: Matthieu Lambert/Auto123.com