2003 Honda Civic Hybrid Sedan - Practicality and a Clear Conscience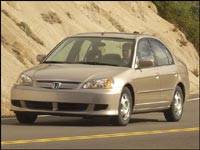 Honda has always been a fuel economy leader. It shook the status quo in 1975 with the CVCC (Compound Vortex Controlled Combustion), an engine that burned fuel so efficiently it didn't need a catalytic converter to meet emission standards of the original 1970 U.S. Clean Air Act. Within two years it placed first in fuel efficiency in the EPA's initial Top 10 list of fuel-efficient cars. Seven years later, in 1984, the sporty manual transmission equipped 1.3-L Civic CRX achieved 4.6 L/100 km (51 mpg) city and 3.5 L/100 km (67 mpg) on the highway.
Other Honda fuel misers included the 1992 Civic VX, VTEC-E equipped 1996 Civic HX and natural-gas powered 1998 Civic GX - one of the cleanest internal combustion engines ever mass-produced. More recently in 2001, Honda gave Canada its first gas/electric hybrid. The Insight is a 2-seat eco-sports car in the spirit of the original CRX, capable of 3.9 L/100km (60.3 mpg) city and 3.2 L/100km (73.5 mpg) highway. Truly, with almost 30 years of fuel efficient, clean breathing automotive breakthroughs to its credit the company that most deserves the patronage of the environmentally minded is Honda.
Still as good as it is the Insight is hardly practical. To some extent the attention the little coupe has garnered through media and Honda advertising has actually benefited sales of archrival Toyota's Prius Hybrid, being the clean alternative for purchasers who need room for three or more. Fortunately for Honda their loyal customers now have a choice between two hybrid Honda models, the two-seat Insight sports coupe or practical 5-seat Civic Hybrid sedan. The Civic Hybrid incorporates all of the features that have made Honda's entry-level car so popular in Canada, and added the best fuel economy and cleanest emissions to its compact sedan class. How good is it? Let's take an in depth look.