2003 Oldsmobile Alero - Final Year for this Attractive Compact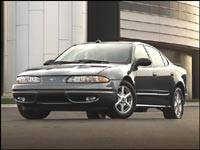 Oldsmobile's best selling car will have its life support cut in 2004 along with the entire 105 year old Oldsmobile brand, leaving the Chevrolet Malibu and Pontiac Grand Am as the only two remaining brands sharing its platform. That said GM's corporate guaranty should mitigate concerns among those who want to take advantage of dealer incentives on Oldsmobile cars and SUVs, or simply those people who find the Alero the more attractive alternative of the performance-oriented trio.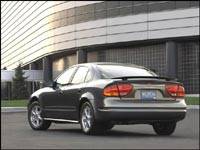 And it does look nice. The Alero's styling might be understated but is hardly nondescript. Whether the sleek 2-door variant or functional sedan its clean continuity of design, lacking go-fast body cladding, is refreshing. No chrome grille graces its frontal view. Rather the bumper extends upward in a simple yet tasteful fashion, dividing the organically shaped headlight clusters while meeting the lower edge of the lengthy hood. The greenhouse design is also not radical, but elegantly simple. While large on their own, the taillights integrate well into the overall design, capped off by an attractive rear deck-lid spoiler - standard on the GX and GL coupe models and optional on the GL sedan. Altogether the Alero emanates European styling cues for a decidedly cultured look.