2004 Acura MDX
By necessity people in my line of work must be able to evaluate a vehicle on short acquaintance.
The world record probably belongs to my friend Michelle Krebs, who pretty accurately described the reality of the latest Ford Thunderbird based on her experiences helping to angle it into position for a photo shoot.
My personal best is a road test on a long-gone Camry model after I drove it around a Toyota dealership lot in downtown Tokyo about a decade ago.
So by and large the public is well served by first takes on a new model in the media.
Having said that, there really is nothing like lots of voices reporting on lots of vehicles if the consumer is to get the kind of comprehensive view that's really useful.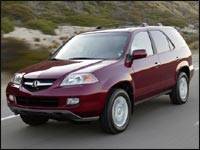 For example, consider that my colleagues on the North American Car/Truck of the Year jury in recent years picked the
Acura MDX
and the
Volvo XC90
as truck of the year in, respectively, 2002 and 2003.
Fast forward a couple of years and we have a greater wattage of light to shine on these two vehicles, courtesy of those thorough folks at Consumer Reports magazine and the unsparing insights of hundreds of thousands of people who read it.
It is the editors' view that both are pretty good to drive, but the readers say the MDX is an excellent car to own while the XC90 isn't because of ''poor reliability.'' As a result, the Acura gets the coveted "recommended'' label from Consumer Reports and the Volvo doesn't.
This is important information to have when you're about to whip out your chequebook, and it doesn't hurt that the MDX is a very competent and comfortable car into the bargain.
Given the Consumer Reports seal of approval and with several minor upgrades for 2004, the car is probably worthy of re-consideration for someone looking for a seven-spot SUV with all the toys.
When MDX debuted a few years back, I was not some enamored with the MDX upon first contact and I still have a couple of concerns to register.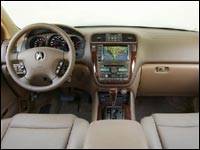 First off, for some unknown reason the folks at Acura (and Honda with its sibling model, the Pilot) have seen fit to put a deep, intrusive front on the wall that separates the front passenger seat from the mechanical bits. As a result, there are serious legroom issues there, and I know from a survey I undertook with several women that it's hard to cross your legs in that seat. Check to make sure that doesn't upset whomever's going to have to ride there on a regular basis.