Falling in Love Too Late
Lately I seem to be able to relate to the expression "you don't know what you've got 'til it's gone" all too well. A recent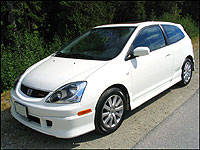 Although the start of my test week left me feeling disappointed with the Honda Civic SiR, things changed on Sunday night. (Photo: Alexandra Straub, Canadian Auto Press)
breakup with my 6'4" boyfriend left me feeling like damaged goods, even though things were on the rocks for a while. We carried out a long-distance relationship for quite some time, so not seeing him anymore really didn't make a huge difference. But it's the companionship that I miss the most after all was said and done.
You might ask how my love life relates to the revamped and enhanced 2004 Honda Civic SiR. I'll tell you. Throughout my test week with the SiR I kept thinking of how disappointed and unimpressed I was with it. I found it to have some commendable characteristics, but I really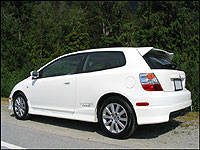 On Sunday night I took the little OEM tuner car up a local twisty mountain road to see if my earlier bitterness was justified. (Photo: Alexandra Straub, Canadian Auto Press)
didn't connect with it as much as I would have liked to. But come Sunday night, all changed. I knew I only had a few more hours with Honda's little performance machine, so I tried to make the best of it.
A go-kart racer friend of mine named Catherine owns a 2002 SiR and constantly brags about how great it is. When we exchanged thoughts about my experience she was confused as to why I thought it wasn't worthy of praise. So off we went at 10pm Sunday night, destined to rip up the Sea-To-Sky Highway just so I could justify my bitterness towards the OEM tuner car.