Round Two of the Red Lines
My older brother went through high school before me, of course, and although we are a couple of years apart we ended up taking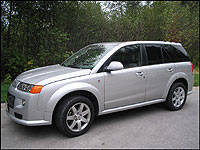 I made the mistake of expecting the VUE Red Line to be similar to its ION sibling. In other words, I had low expectations of the sporty SUV. (Photo: Alexandra Straub, Canadian Auto Press)
most of the same classes with many of the same teachers. With my brother establishing the family reputation it's no wonder some teachers had preconceived ideas of what to expect when they saw Straub on the attendance roll, but like so many things in life you can't always go by name associated assumptions.
But who am I to talk? I did the same thing before picking up Saturn's new VUE Red Line, thinking that it would be just like the ION Red Line I tested a short while ago. I judged it to be a relatively good car for its make, but it left me wanting for more refinement. Based on its shortcomings I'm embarrassed to admit that when I
The VUE Red Line was surprisingly good, and nicely topped its sibling in every category that matters to me. (Photo: Alexandra Straub, Canadian Auto Press)
initially got behind the wheel of the VUE I had minimal expectations. That's where the sporty SUV surprised me, and nicely topped its sibling in every category that matters to me.
I immediately noticed a difference in performance. Its impressive 3.5-liter 24-valve, DOHC, Honda-derived V6 is powerful and responsive, putting 250 horsepower at 5,800 rpm and 242 lb-ft of torque at 4,500 rpm down to the road via all of its wheels. The Red Line's five-speed automatic transmission shifts each gear smoothly and subtly, making for a really enjoyable drivetrain. I should mention, however, that you don't have to step up to the Red Line package to enjoy this engine, as it comes as an option in both front- and all-wheel drivetrains.