Invisible excellence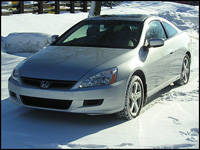 2006 Honda Accord EX-V6 Coupe (Photo: Michel Deslauriers, Auto123.com)
It's not easy reviewing this car. Not because it's a hard vehicle to live with, quite the contrary. The Accord coupe does everything well, but it lacks character.
For example, let's say you have a co-worker that's polite and well-groomed. His favourite pastimes are stamp collecting and Trivial Pursuit. He's a hard worker and never complains. And to top it off, he doesn't need a high salary to be happy. Would you like this person, or would you find him marvellously boring?
The Accord coupe and its
sedan
counterpart are everywhere. Well, maybe not as much for the coupe, as it sells in low numbers compared to the 4-door Accord. Now, do you notice them all, or do they pretty much blend in with the automotive landscape?
This is the deciding clincher for many. If you're about to purchase a 2-door coupe, priced from $30,000 to $35,000, what are you looking at? Accord? Mustang? Solara? Monte Carlo? Eclipse? G6? Well, I think it all depends on how you want to look and feel in it.
Underneath the hood of this EX-V6 trim level is a 24-valve 3.0-litre V6. Although a few of Honda's products have seen their peak power reduced by the new SAE net HP revision, this engine actually saw its horsepower number climb (slightly). At 244 hp, that's the most powerful Accord ever,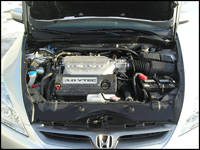 2006 Honda Accord EX-V6 Coupe (Photo: Michel Deslauriers, Auto123.com)
and almost of the most you could get in an Accord 15 years ago. My, how time flies. Speaking of flying, this test car does just that.
Equipped with the excellent 6-speed manual transmission, it is capable of 0-100 km/h bursts in about 7 seconds and a top speed of 225 km/h. With a one- or two-gear downshift, you'll blow by slower-moving traffic in no time. So much for the sensible Honda family car. But wait! In the midst on this high-speed frenzy, I still got a respectable 11.5 L/100 km. As for Transport Canada's 7.2 L/100 km highway rating, forget it. Ain't gonna happen. Well, maybe if you're real good, and drive very slow. In that case, just get a 4-cylinder Accord, and you won't have to try as hard to save gas.
Combine a front-wheel drive platform with a powerful and torquey engine, and what do you get? You guessed it, torque steer! Well, the car's stability control system, which Honda affectionately calls Vehicle Stability Assist (VSA), is ever-present and limits your willingness to goose it at every stoplight. You can turn it off with a button on the dash, but after a few launches accompanied by a severe darting left and right of the car's front end, you'll get tired of the temptation to deactivate the VSA.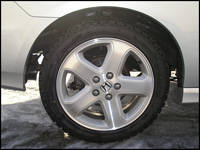 2006 Honda Accord EX-V6 Coupe (Photo: Michel Deslauriers, Auto123.com)
The Accord coupe handles safely and predictably. I'd say the setting is more touring than sport, to stay within the car's well-behaved demeanour. The VSA will step in, again, when biting into street corners with too much enthusiasm, but will keep you in a linear curve nonetheless. Of course, you can't really push the limits of the suspension during winter, even though Honda installed Blizzak tires on the car. The ride is pretty smooth, as none of my inner organs screamed for mercy during the length of the test.