Hum Vee Wannabe
Quickly, which vehicle is longer: the Honda Accord two-door coupe or the beast you see pictured before you? I know this is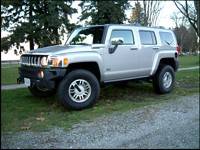 Quickly, which vehicle is longer: the Honda Accord two-door coupe or the beast you see pictured before you? (Photo: Rob Rothwell, Canadian Auto Press)
an "apples" and "oranges" comparison, but it puts into perspective the diminutive size of the H3. As if creating an optical illusion, H3 stylists penned a Hum-Vee-like exterior that projects a much larger, more imposing image of the midsize SUV, which is actually close to an inch shorter (2.5 cm) in overall length than the Accord coupe. That reality, along with a reasonably fuel-efficient inline 5-cylinder engine, will ease the conscience of many H3 buyers who love the Hum Vee tough-guy image but not the stigma of driving an obnoxiously large, fossil-fuel-wasting war machine.
Despite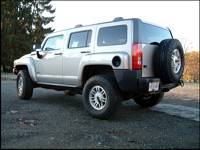 Despite its condensed sizing, the H3 is no wimp. (Photo: Rob Rothwell, Canadian Auto Press)
its condensed sizing, the H3 is no wimp. Unlike many other similarly sized SUVs, the H3 is not based on a car platform; it boasts true body-on-frame architecture, rather than uni-body construction, and full-time locking four-wheel drive (4WD). Hummer's parent company, GM, utilized the powertrain and frame assembly from its Chevy Colorado / GMC Canyon line of compact pickup trucks as the basis around which to create the H3. Throughout the engineering and design phase, GM never lost sight of its goal to produce a capable off-roader, giving the H3 a strengthened chassis with increased ground clearance over the pickup truck application.