The point behind the H3 is that it's supposed to bring the Hummer look and attitude to a lot more people than the H1 or H2 models ever could, and in the process help General Motors sell a lot more vehicles.
To this end, the U.S. has adopted what is usually called an ''aggressive'' price position for the smallest Hummer, at US$29,500.
2006 Hummer H3 (photo: General Motors)
Unfortunately, General Motors of Canada seems to be taking a slightly different tack, since it has hung an MSRP of $39,995 on the units arriving at Hummer dealers in a couple of weeks, which is about $3,000 higher than the car would be at today's currency exchange rates.
Still, that's many thousands of dollars lower than the price of an H2 SUV at $66,390, and it does have the look that's very trendy and considerable skill at going off-road.
In its overall presence, the H3 is like a movie or TV star -- you're going to be surprised at how small it is when you see it in person. In fairness, it's not really that small, but it is does lack the hulking demeanor of its H1 and H2 siblings.
The H3 is in fact 4,742 mm long on a wheelbase of 2,842, and 1,893 mm high and 2,170 mm wide. Compared to the H2, the H2 is about 400 mm shorter in length, 150 mm shorter in height, and 160 mm narrower.
At this size and this price, reckons Cathy Mowat, the marketing manager for Hummer in Canada, the H3 ''sits in the heart of the midsize utility segment. So it will appeal to a slightly younger and more diverse group of customers than its H2 sibling.''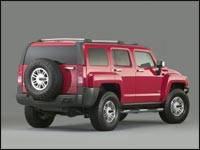 2006 Hummer H3 (photo: General Motors)
According to Mowat, with its size and the 3.5-litre inline-five Vortec 3500 engine, the H3 will offer ''a combination of power and good economy. Plus, H3 will be the first Hummer to offer the choice of a manual or an automatic transmission, as many off-road enthusiasts value the ultimate control of a manual.''
The Vortec 3500 engine puts out 220 hp at 5,600 rpm and 225 lb-ft of torque at 2,800 rpm, using good old regular unleaded fuel at 87 octane, which saves the consumer from spending a lot more per litre for the higher-octane fuel that some engines demand.
The H3 will also be the first Hummer in Canada to include a new four-year, 80,000-km warranty, which will be standard on all Hummer vehicles for 2006.
Standard features on the H3 will include full-time four-wheel drive, full-function single-wheel traction control, four-wheel disc brakes and four-channel ABS, 16-inch seven-spoke aluminum wheels with 32-inch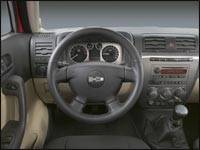 2006 Hummer H3 (photo: General Motors)
outside diameter tires, CD AM/FM stereo with six speakers, and OnStar safety security system with one year of the Safe and Sound plan.
There's also an Adventure Series package for $1,340 that includes an off-road suspension package with a full locking rear differential, a transfer case, button-activated, full-time all-wheel-drive, and specially-tuned, two-speed shocks.
There's also a Luxury Series package at $4,390 that includes reclining buckets with leather seating surfaces, heated driver and front passenger seats with power driver and passenger eight-way power lumbar, an ETR AM/FM stereo with a six-disc CD, a seven-speaker Monsoon sound system, a leather-wrapped steering wheel, a universal home remote system, and lighted vanity mirrors.
photo:
GM of Canada