Civic duty: Honda Coupe delivers as promised... and more
Funny thing: When I first got my hands on the latest generation
Honda Civic
Si Coupe, I was so impressed that I pretty much disregarded all the other variations of the then-new car. This, I recently learned, was a grave error because the "base" Civic Coupe is an incredibly worthy car for many of the same reasons.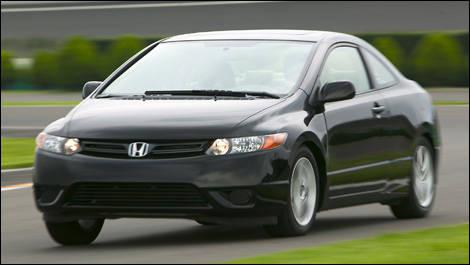 The DX-G may not be as flashy as the SI but it still does the job nicely.
First of all, the 2007 Honda Civic DX-G
Coupe
(the version tested) is a very stylish ride, particularly for a small car with an all-in price of less than $20,000. Of course, the Si sets the benchmark in terms of cool factor with its large rear decklid wing and 17-inch alloy wheels, but the DX-G doesn't lag far behind.
The rear wing does help balance the appearance of the back of the car and the larger wheels do an admirable job of giving the Si a meaner appearance. Still, the basic shape of the Civic Coupe is its most defining feature and even with covered 15-inch steel wheels and a smaller spoiler, the DX-G is a dynamite-looking little car.
Slick interior delivers stylish fun
Inside, there are some differences as well. The Si gains a leather-wrapped steering wheel and shift lever, as well as an upgraded audio system, and steering-wheel mounted audio and cruise controls. Yet, the same point as above holds true: Inside, the two coupes are pretty much the same.
The bold, dual-level instrument panel is not only slick, it's also functional. I've always appreciated a digital speedometer and the designers at Honda have placed exactly that front and centre. The analog tachometer, placed on the lower tier, is equally easy to read at a glance. At night, the blue and white treatment on the instrument panel proves very user-friendly.
The centre console, replete with small storage compartments, also houses the small handbrake and gear shift lever. The packaging here is extremely well done; everything is fitted into a relatively small space, but without compromising on ergonomics in the least.
The shift lever, in particular, falls to hand so naturally, it actually encourages the driver to shift gears even when it's not necessarily required. Similarly, the steering wheel has a small-circumference design that also promotes the "sporty-driving" feel of the interior. The wheel also tilts and telescopes for the ultimate in adjustability.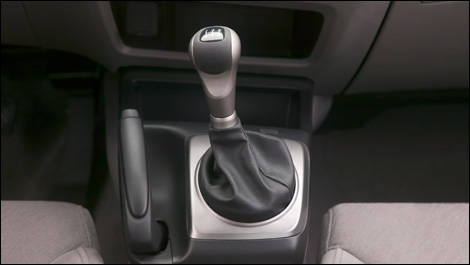 The 5-speed manual gearbox is a pleasure to work with.