New millennium superstar
When the Honda S2000 made its debut in 1999, it tossed the small sportscar world on its ear. Up until that point, only the
Mazda Miata
and
Porsche Boxster
had gained any kind of lasting traction with drop-top aficionados who also had an undying love for the open road.
Dynamic and exciting, the S2000 is everything but dull.
Price-wise, the
S2000
slotted right in between the Miata and Boxster - much more affordable than the Porsche, a tad more exclusive than the Mazda. It was a winner right from the get-go, that rare sportscar that's more at home on the track than on the street.
Of course, there were some issues with the original: a cramped cabin, a non-adjustable steering wheel, a plastic rear window and a metal gearshift lever that became downright nuclear on sunny days. In terms of performance, the 2.0-litre VTEC engine needed to be revved to kingdom come in order to really get things moving - a characteristic that, away from the track, could become tiresome.
The thrill remains the same
Since that first edition, changes were made to the rear window, the gearshift lever and the engine. But a return engagement with the Honda S2000 - this time the 2007 model - proved that these small refinements had not altered the car's kick-ass character one iota.
First of all, the high-revving 2.0-litre 4-cylinder VTEC was replaced with a 2.2-ltre engine of similar design. Due to the revised SAE rating system, horsepower is rated a bit lower - 237 versus 240. Torque, however, increased from 153 lb-ft to 162 lb-ft at 6800 rpm and the redline went down from an eye-bulging 9500 rpm to a more sane 8000 rpm.
These final statistics highlight how the driving characteristics of the latest S2000 have changed. The roadster still needs to be revved to extract maximum fun, but it's not so extreme a situation as before. The VTEC does provide an added kick in the upper reaches of the rev range, but the power comes in more progressively than before.
Progressive does not signify slow, though; the Honda is still capable of powering from 0-100 km/h in about six seconds. Along the way, drivers have the distinct pleasure of working their way through the short-throw, 6-speed gearbox - the reigning champion of road car manual transmissions. To complete the picture, the pedals are very well-placed for performing heel-and-toe downshifting and braking.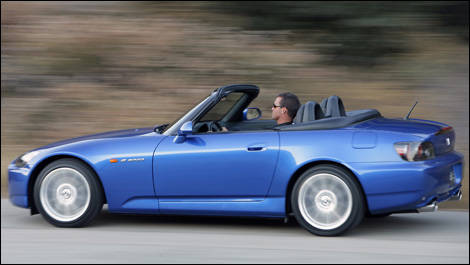 Exhilarating performance and a retractable top make for a great ride.