A well-kept secret
Automakers are launching more and more premium SUVs on the market. As a result, more and more people buy them. Following the good old "offer-demand" principle, these vehicles are usually expensive for customers and highly profitable for manufacturers.
If a competitor is selling a high-priced SUV and still manages to find a fair amount of takers, then why wouldn't you sell yours at the same price? Well, for one, Hyundai is going against the current and staying true to its reputation as a value leader by offering the all-new 2007 Veracruz.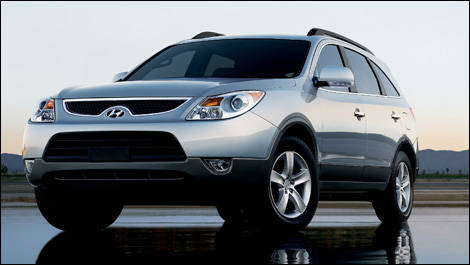 Hyundai's Veracruz offers a long list of features at an affordable price.
Can the Korean automaker successfully sell its newest model among the sea of premium SUVs by using its own logo? We'll see.
Larger than the Santa Fe
With three rows of seating, the Veracruz comfortably sits seven passengers. The third row is roomier and especially wider than the Santa Fe's. When the rear seats are folded, the available cargo volume is impressive.
The front seats are fantastic for long trips, while the large greenhouse provides excellent outward visibility. In terms of ergonomics, the Veracruz is almost flawless.
Ride comfort is one of the main qualities of this SUV, as is noise insulation. On the safety front, it's hard to ask for more from the Veracruz, which comes standard with six airbags, all-wheel drive as well as traction and stability control.
This Hyundai offers a comprehensive list of features, even in base GLS trim. The high-end Limited model essentially adds premium saddle leather, a 6-CD changer as well as power-adjustable pedals, steering wheel and front passenger seat.
The interior has a definite premium feel.
A handsome-looking vehicle
I'm pretty sure that if you took the Hyundai logo off the Veracruz, nobody would ever guess this is a Korean SUV. Overall, the design is smartly executed, with lines that combine to create a big-truck look.
The paint color of my tester was, well, different. Build quality, both inside and out, is impressive. The interior color scheme is also tasteful.