Today's Big Family Haul'er
My Saturn Outlook tester was not equipped with all-wheel-drive (AWD); something we have grown to consider the norm in SUVs and Crossovers. Its front wheels propelled it, which for many user applications is more appropriate and efficient than unnecessarily burdening the vehicle with gas-wasting all-wheel-drive (AWD) apparatus.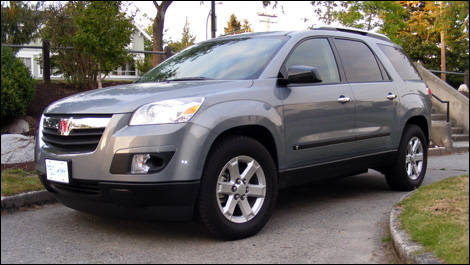 A 2WD vehicle of that size? This is interesting.


Outlook part of a new GM family of vehicles
The Saturn Outlook debuted as a 2007 model, and is a mid-size SUV crossover based on GM's versatile Lambda platform, which also hosts the GMC Acadia and Buick Enclave. The Outlook replaces the uninspiring and somewhat unpopular Saturn Relay minivan- the one with the long nose intended to mimic an SUV.
Unlike the Relay, the Outlook exhibits bold styling consistent with Saturn's design language of late. The look is sharp, defined and symmetrical if not a touch rugged- definitely a bit of a departure stylistically for Saturn. Interior layout and design is functional and attractive, although I would prefer rotary dials to buttons when it comes to HVAC controls. I'd also like to see larger radio preset buttons given the absence of steering-wheel-mounted controls in my XE tester.
Seating for eight
Particularly well thought-out is the Outlook's eight-person seating arrangement. The second row 60/40-split bench accommodates three adults while the three person, 40/60-split third row accommodates three more. Two adults could inhabit the third row in relative comfort, squeezing in three grown-ups would invite plenty of shoulder rub and jostling, if not adult whining.
Accessing the third row is remarkably easy given GM's Smart Slide, fold flat system which compresses the second row seat nearly flush against the back of the front seat. This function creates a fairly wide aisle, relatively speaking, for ingress/egress. The second row bench can also be positioned fore and aft on its sliding tracks to share legroom equitably among second and third row passengers. Headroom in all seating positions is very good for an SUV.
Power to move eight
GM's 3.6-litre DOHC V6 powers the Outlook. With the use of variable valve timing and optional dual exhaust, the polished mill can deliver 275 horsepower @ 6,600-rpm and 251 pound-feet of torque @ 3,200-rpm. Single exhaust routing drops the figures to 270 and 248 respectively.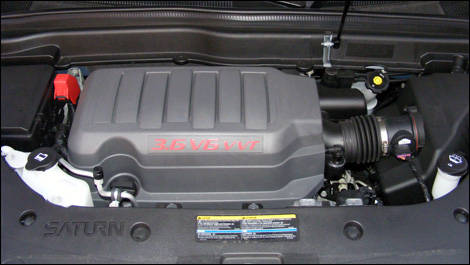 This 3.6L V6 might be better served with a sportier transmission.