Lincoln is pushing hard to acquire a greater share of the premium-car market by targeting those who believe, according to Mike Richards, General Marketing Manager for Lincoln, that "earned success deserves to be rewarded but not in an outwardly way." An example of that philosophy is captured in the clean, sheer surfaces of the MKX and the sense of luxury found in the warm woods and soft materials lining its elegant but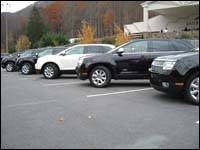 2007 Lincoln MKX (Photo: Rob Rothwell)
unpretentious cabin. This is a completely new vehicle for Lincoln, whose lineup has never before included an offering in the highly popular, luxury crossover segment. The Canadian-built, unibody-constructed MKX is slated to eventually replace the Aviator, which is a body-on-frame SUV.
Lincoln recently introduced a gaggle of journalists to its all-wheel-drive MKX, which is a five-seat CUV (crossover utility vehicle) based loosely on the highly praised, Fusion/MKZ sedan architecture. The same root-architecture also underpins the Mazda CX-7 and CX-9 as well as the Mazda6. According to Jim Baunback, Chief of Vehicle Development for crossovers, the goal in adapting this architecture for MKX use was to deliver a "connected, in-command driving experience" while focusing on operational refinement and interior quietness. The outcome has met expectations. Lincoln claims that less wind and road noise penetrate the cabin of the MKX than the confines of the benchmark setting, Lexus RX350. Depending on one's subjective measure of engine noise - whether good, bad or audible,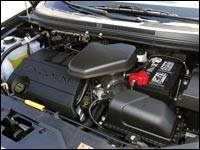 2007 Lincoln MKX (Photo: Lincoln)
inaudible - the jury is out on which vehicle produces more or less engine noise, and, whose noise is more pleasing to the ear. This I can tell the jury, the MKX is silent at idle, and when the throttle is poked, the engine revs quietly while emitting a growl of refined tonal quality.
The 3.5 litre engine producing the subtle notes develops 265 horsepower @ 6,250 rpm and 250 foot-pounds of torque at 4,500 rpm. This is a new powerplant for Ford/Lincoln. It features variable valve timing and numerous other improvements, landing it light-years ahead of previous V6 mills from Ford. In both refinement and output, it ranks up there with units powering nameplates such as Japanese auto giants, Acura and Lexus. While it may not exude quite as much silkiness as some of the aforementioned it's certainly in the same ballpark, all-the-while burning 87-octane fuel rather than the premium juice preferred by many of its competitors. The marvel of the MKX powertrain doesn't end there. Happily married to the new engine is a new automatic transmission encasing six gears not the five more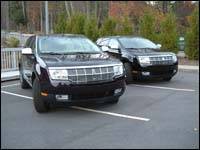 2007 Lincoln MKX (Photo: Rob Rothwell)
commonly used in this segment. This sophisticated autobox isn't a reworked 4-speed or 5-speed unit. It was designed from the start as a 6-speed transmission intended to improve performance and fuel economy over boxes with a lower cog count.
So how well does the new duo work together? Let's just say that if humans could be so well suited to one and other, a lot of divorce lawyers would be pumping gas and super-sizing orders. When driven with restraint, gear changes in the MKX are essentially imperceptible. When driven enthusiastically, the transmission adapts by holding gears longer and swapping them more athletically. Although impressed with its adaptive behaviour, I was initially miffed to note that a manual-mode is not available, nor is there a gated shift plate to allow the driver to gear-down through 3-2-1 etc. Not one for internalizing, I made my displeasure known to the reps on hand. The explanation received left me skeptical. Apparently though, Lincoln did their homework. They surveyed the target market regarding the need for a "manual mode" over the "hill-assist" function built into the new autobox, and found that customers preferred the hill-assist feature more. Here how it works: When driving undulating roads, which we did extensively, hill-assist can be engaged by depressing a small button on the side of the shift handle. This programs the transmission to hold its gear selections longer, but more importantly it enables a driver-initiated downshift by simply tapping the brakes. If a further downshift is desired, moving the shift lever to "L" immediately engages the lowest appropriate gear.