New E 550 Makes Tracks

Lake Placid, NY
- The Mercedes-Benz "100 Years of All-Wheel Drive" event in Lake Placid didn't yield much winter weather, but one of the drive routes did offer the chance to unleash the 2007 Mercedes-Benz E 550 4MATIC.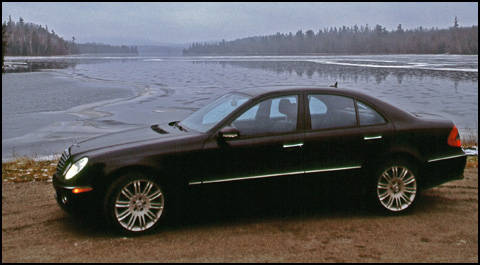 The 5.5L V8 moves the heavy sedan quite easily.
Powered by a 5.5-litre V8 engine, the E 550 benefits from a healthy 382 hp and 391 lb.-ft. of torque from 2800 to 4800 rpm. This power is transferred to all four wheels by a 5-speed automatic transmission and through the permanent all-wheel drive 4MATIC system.
While the E 550 doesn't feature the latest in drivetrain wizardry - the
E 320 Bluetec
and E 63 AMG both run the 7G-Tronic transmission - it does still offer a spirited and capable ride. One estimate had the E 550 4MATIC sprinting from naught to 100 km/h in 4.9 seconds, but this seems overly ambitious; acceleration felt brisk, but not that spectacular.
The strength of the entire package derives from the sedan's stiff chassis and truly remarkable 4MATIC system. On the drive route in question, testers had the chance to drive a lightly-traveled and highly entertaining dirt road. My co-driver and I used this road to compare the E 550's third-generation 4MATIC with the fourth-generation system found in the new
S 550 4MATIC
.
On paper, the most significant differences between the two systems are weight (the newer is some 35 kg lighter than the older) and economy (the new 4MATIC adds just 0.4 L/100 km in
fuel consumption
). But from the seat of the pants, the biggest change is in torque distribution - the older system featured a 40/60 front/rear torque split and the newer, a 45/55 front/rear torque split. From extensive testing and customer feedback, Mercedes engineers have determined that the 45/55 ratio is the optimal one for road car handling and stability. We were invited to test this theory out.
Comparing the E 550 with the S 550 was difficult due to the different sizes of the vehicles; to make matters more confusing, the only S 550 available was the long-wheelbase version. One thing was certain, though: Both cars easily handled the variable traction conditions of a damp dirt road.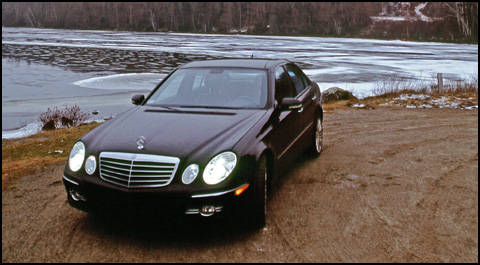 Traction was never a problem, thanks to the all-wheel drive 4MATIC system.