Audi Unveils Revised Luxo-Sedan Fleet
Munich, Germany -
Despite the fact that most German car manufacturers have agreed to limit the top speed of their respective vehicles to 250 km/h, any opportunity to take a slick sedan onto the Autobahn is still not to be missed. (This "top speed agreement" does not extend to Porsche or to certain specific German performance cars, such as the Audi R8 and the BMW M models.)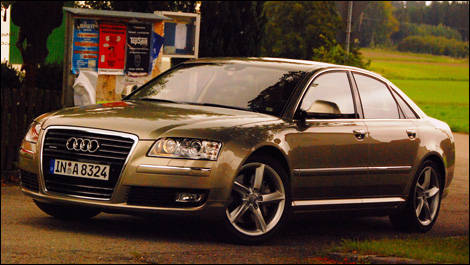 You can pick the A8 for either its driving dynamics or its princely comfort.
For the uninitiated, maximum top speed on the Autobahn isn't the main objective of any given test drive - although it can be an exciting side benefit - it's rather how the car in question handles ripples in the pavement, gentle bends in the roadway or the sudden appearance of a Dutch caravan in the fast lane at elevated speeds.
To showcase the revised 2008 Audi A8 line, the organizers planned a series of very entertaining routes on the outskirts of Munich; roads that carved through the countryside, then led towards heart-pumping blasts along the aforementioned freeway with the accent firmly on the "free".
Three different models were at our disposal: the "base" model A8 with its 4.2-litre V8 engine; the elongated A8L limousine, powered by the mighty 6.0-litre W12; and the super-fast S8 with its Lamborghini-sourced 5.2-litre V10.
Further Refinements to a Refined Line
For the new model year, there are just a few refinements to the A8 line. The A8 and A8L have been given a slicker look with a new high-gloss black front grille. The grille on the A8L gains the vertical bars that were previously only seen in the sportier S8.
All three models feature revised LED taillights (first seen on the A6), square front fog lights and new exterior mirrors with built-in turn indicators. There are six different wheel combinations for the fleet, ranging from 18-inch alloys for the A8 to 20-inch numbers for all three cars (standard on the S8; optional on the A8 and A8L).
Inside, the A8 receives a lot more aluminum trim pieces (on the doors, glove compartment and steering wheel), as well as the leather and aluminum shifter from the S8. All models have a new start/stop button positioned just to the right of the shifter in the centre console.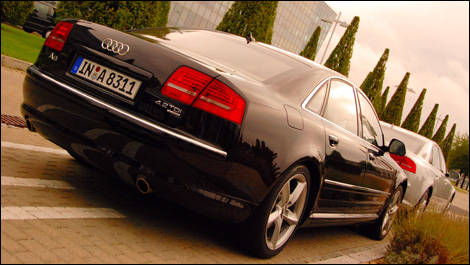 Sophisticated and elegant lines.