Seattle, WA -
When the original Ford Focus was introduced in 1999, it was a pretty reasonable effort: a small car available in a variety of sharp body styles that offered a decent number of features for a relatively low price. The first Focus was so good, in fact, it won over 60 awards including the AJAC Canadian Car of the Year and North American Car of the Year in 2000.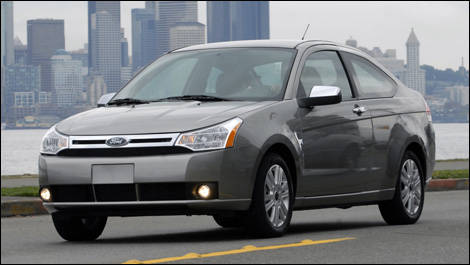 The 2008 Focus is completely new from a design perspective.
Over the first few years of its initial run, there were even some interesting variations introduced, such as the Euro-stylish ZX5 5-door hatchback, the family-friendly ZXW wagon and the high-powered SVT hatchback.
But strange things happened in the Focus family since the early days. First, the company's littlest car grew long in the tooth, surpassed in the small-car sweepstakes by a number of newer, more technologically advanced and more feature-laden compacts.
Now, for the 2008 model year, a full eight years since Focus 1.0, there's a new version on the horizon and Ford is hoping that it will make as big a splash as the original.
Visual changes all around
One thing is clear from a quick look at the new Focus: it's new, all right. The 2008 model comes in just two body styles, a
2-door coupe
and a
4-door sedan
. Both versions share little in common with the previous generation in that they feature new headlights, front grille, hood, fenders, bumpers, fascias, taillamps and wheel offerings.
The body styles are, in a word, different.
In profile, both versions appear to have massive ground clearance at the front, a design decision that goes against the prevailing trend towards a low-profile look for everything apart from SUVs. The front bumper appears unnecessarily thick compared to the daintier features of the rest of the car.
To top it off, the wide carved section that runs along the side panels echoes the Ford Mustang, but not in an entirely successful way. The coupe, in particular, is an odd choice for the Ford design team. For years, we have heard how the American driving public (unlike Europeans and Canadians) doesn't respond to hatchbacks or wagons.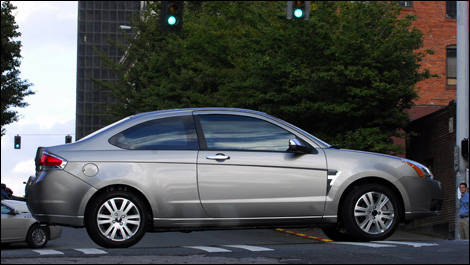 The side carving looks somewhat awkward.