There are sports cars and then there are sports car wannabes. The 2008 Honda Civic Si belongs in the first group. While it may look like the 70,000 other Civics that were sold in Canada last year, this compact Japanese has stronger muscles and all the ingredients to deliver plenty of driving thrills.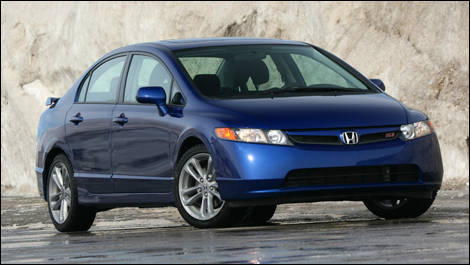 The 2008 Honda Civic Si is a very affordable alternative to the Acura CSX Type-S.
Good news: the Si treatment is no longer exclusive to the stylish
coupe
. Honda now offers it with the convenient four-door Civic. This sporty sedan joined Honda Canada's model lineup a year later than in the U.S. due to the 2007 introduction of the
Acura CSX Type-S
, a high-end twin of the Civic Si.
Subtly sporty looks
Compared to other Civic models, which ride on 15- or 16-inch wheels, the Si sedan stands out thanks to exclusive 17-inch alloy wheels. Color selection also includes the exclusive Fuji Blue Pearl, a brighter tone that I find more becoming of a high-performance model than the Neutron Blue Metallic paint of the regular Civics.
Just like the coupe, the Civic Si sedan gets a stylish rear wing spoiler that remains fairly subtle, unlike the ridiculous "picnic tables" on the back of some machines (making their owners think they can ride at Daytona!). It positively adds to the car's racy styling while not compromising rearward visibility. Plus, the trunk lid is not any heavier to lift. Of course, its functionally is seriously questionable, even at highway speeds.
Naturally, there's a bright Si badge on the trunk lid. Let it serve as a warning to all those lunatic folks who drive at turtle-like speeds. They will no doubt wake up when you fly past them.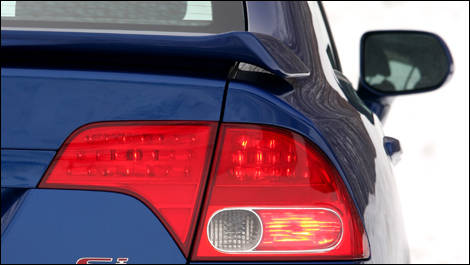 A subtle rear spoiler sets the Civic Si apart.