Last fall, when I attended the media launch of the new
smart
in San Francisco, I clearly enjoyed driving the car. My first impressions turned out to be very positive. However, a full road test over an entire week is necessary to get the complete picture.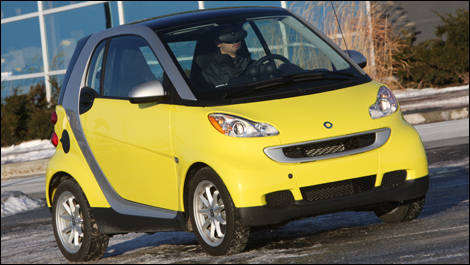 The new smart proves to be a great city car.
So, in February, I spent 7 days behind the wheel of a smart fortwo coupé passion, driving in a variety of road and weather conditions: rain, sunshine, heat, cold, 90-kph winds, snow, hail... you know, everything Quebec has to offer. Well, the new smart once again proved to be a great city car. It has some surprisingly good attributes (liveability and handling, among others), but also a couple of small weaknesses, like gear shifts in auto mode. Oh, and there's one major flaw: access to the washer fluid tank.
Sexy like a supermodel
With canary yellow body panels and a silver-accented safety cell, my tester made a lot of people smile and give the thumbs up. Curvy lines and tiny dimensions make it a cute little devil that sneaks everywhere. And my God, how cool is it to park! It occupies only half the space of a midsize car. On the other hand, you have to learn how to use reverse, because the sizeable head restraints and truncated rear end impede rearward visibility. That said, I quickly got used to it and it seemed as though I was always looking for an empty parking space to back up into.
Roomy
The two large doors offer easy access to the cabin. The exterior design is somewhat misleading, as you have to climb a little to get on board. At the Montreal Auto Show, many visitors were shocked by the amount of room available inside. "It feels like sitting in a large sedan," they said. Yes, Sir! The cockpit is beautifully appointed with nicely patterned fabrics. Fit and finish is good for such a small car. In passion trim, there's also a panoramic glass roof with a nifty sunscreen. As a result, you can let in all the sunrays or enjoy subdued lighting.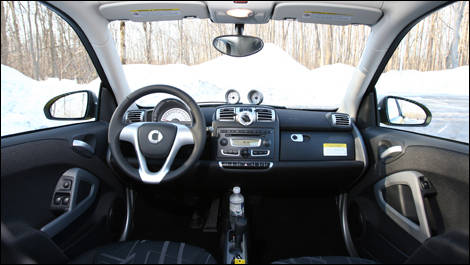 The gauges and controls are well laid out and easy to use, making drives that more pleasant.