Bigger, quicker
After a long waiting period, the highly anticipated next-generation
smart fortwo
will arrive in showrooms at the end of the month. Order sheets are already full and its general acceptance among consumers keeps spreading. Why? Simply because the fortwo is an excellent urban car. For 2008, the all-new model will satisfy city dwellers and shoppers, everyday commuters, out-of-towners and even country drivers who just need a little runabout. This German import can serve as your first, second or even third car. Subtly brilliant and efficient, it's actually the only "smart" two-seater on the market (pun intended).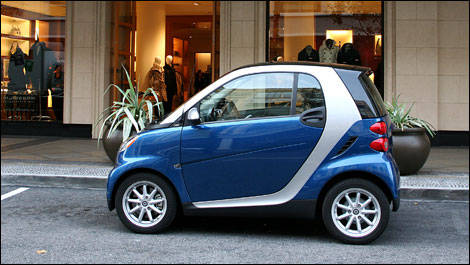 This one-of-a-kind city car proves to be more and more popular.
Always a cute little face
The fortwo is a loveable character; people turn their heads just to admire it. Now 19.5-cm longer and 80-kg heavier, the new smart stays visually true to the first generation but with softer, more modern lines. The resulting appearance is not only cute but downright adorable. And thanks to the extended wheelbase, the interior is friendlier than ever. Three main colors are available: Deep Black, Light Yellow and Crystal White. For a premium of $430, buyers can get Blue, Red or Silver metallic body panels.
Welcoming interior
The new and improved interior is more functional and user-friendly. Fit and finish as well as material selection are way better than before, while the overall layout is nicely executed. I particularly liked the quality of the black plastics and fabrics in my blue-colored ''Passion'' tester. A red or beige interior can also be fitted to this higher-end model. Meanwhile, the base model, called "Pure", is exclusively available with a grey upholstery.
The instruments are easy to read and the center-mounted controls are simple to use. The air vents swivel 180 degrees to effectively cool both the driver and passenger -- not to mention the cabin altogether. Again, thanks to the longer wheelbase, the seats slide further back to offer more legroom. Speaking of seats, they are adequately supportive and bolstered enough to keep your body upright during cornering maneuvers. As a driver, though, I would have appreciated a tilt-adjustable steering wheel.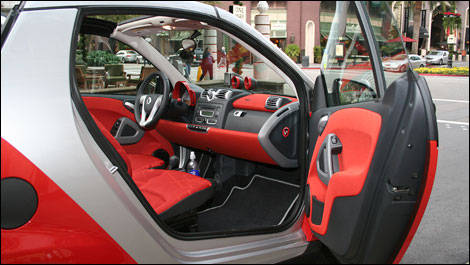 The interior is better executed and build quality is a notch above its predecessor's.