Quebec City, Quebec -
When
Suzuki
launched the compact
SX4 hatchback
last year as a replacement for the late Aerio, I couldn't stop applauding. The Aerio was aging in a very bad way; plus, it never proved to be an example for durability or performance. So the newcomer filled a significant void by acting as a small urban vehicle that is both efficient and pleasant to look at.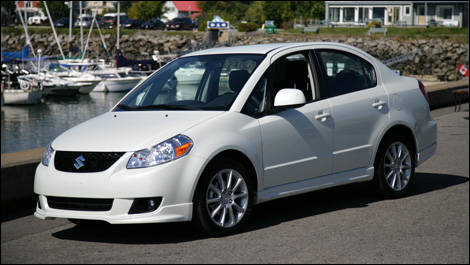 Pleasant looks and predictable dynamics define this car.
Indeed, with its rounded shapes and go-anywhere size, the little hatchback was the very definition of "cute" -- as if it had been designed as a toy. A toy delivering versatile performance.
Unlike its predecessor and despite a few negative aspects, the SX4 quickly drew praise from auto journalists. It actually completed its first year of existence as one of the finalists for the title of European Car of the Year.
This being said, the hatchback no longer seems to meet demand. Many consumers were wishing for a sedan variant that would be larger and roomier while offering the same dynamic qualities as the regular SX4.
Suzuki took the challenge and recently invited a group of Canadian journalists to Capital City, Quebec, for a presentation of the final product: the 2008 Suzuki SX4 Sedan.
A matter of size
This new 4-door SX4 is first and foremost a new design. Of course, the exterior dimensions have been increased; for instance, the sedan is 30-cm longer overall than the hatchback. The width is identical, while the height is 3-cm lower and the side profile, more streamlined. For comparison's sake, the car boasts the exact same length as the Honda Civic Sedan, although it remains a few millimeters narrower.
The larger size obviously benefits interior room, which is reportedly sufficient to accommodate five passengers. In reality, only two people will find comfort in the back. Legroom and headroom is reasonable but not exceptional.
In terms of styling, however, the new SX4 has nothing to do with its smaller sister. True, the nose is similar, but the overall shape and the changes made to the beltline give the sedan a much sleeker appearance. Sloping angles were even integrated to the side edges, from the front to the rear, in order to further emphasize the aerodynamic look. In the end, the design is somewhat well executed but more conservative than one could have hoped for.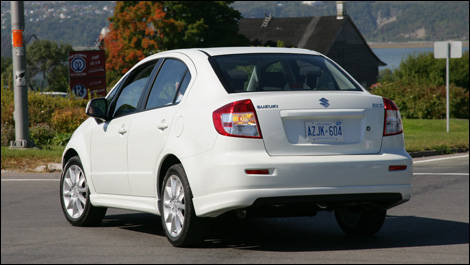 Trunk space is fairly generous, but the rear seatback does not fold forward.