Environmental Altruism Making Sense
The
Toyota Prius
is the world's best selling, mass-produced gas/electric hybrid vehicle. Whether or not one likes the unconventionality of its styling, one thing is for certain: the Prius is proving itself fuel efficient and reliable. The oft-cited fear of expensive battery pack replacement has not actualized, even under the most rigorous applications such as taxicab usage.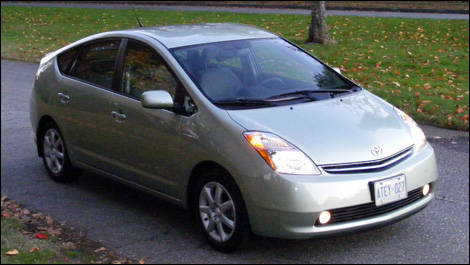 Toyota has sold over 1 million hybrids worldwide.


Styling oddity- in and out
Functional it may be, but I'm not a big fan of the wedge-shaped Prius body despite its aerodynamic shape contributing to the vehicle's ability to pass silently and effortlessly through the wind. Given the efficiency gain and the generous interior dimensions produced by the unique shape, I'm happy to put personal taste aside and declare the Prius "tolerably attractive."
Unfortunately my interpretive benevolence fails to extend to the vehicle's even odder cabin design. Herein one is subjected to a non-existent instrument panel- of sorts. A digital speedometer and fuel gauge are positioned at the base of the windshield directly ahead of the driver; a digital gear indicator is also included in the grouping which glow a pleasant, luminescent green.
The centre stack is essentially a touch-screen interface associated with climate, audio and navigation (if so equipped) functions. Also playing on the screen is a variety of displays depicting vehicle operational efficiency. Fortunately many of the interface functions referred to are supplied redundantly on the steering wheel, thus limiting the need to remove a hand from the most important component of any car.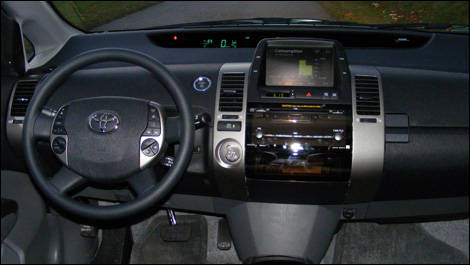 The Prius offers all the equipment you would find in a comparable non-hybrid vehicle.


Comfort and convenience
Adding to the vehicle's versatility is a 60/40-split folding rear seatback, creating a flat load floor behind the front seats. The resulting cargo bay is easily accessed through a large hatchback arrangement. Although expansive in size (456-litres, 16.1 cu ft) given the "compact" rating of the Prius, the cargo hold is fairly shallow in overall depth.