Small wagons are pretty much a dying breed these days. Since U.S. consumers loathe this type of vehicle, most automakers have chosen to ignore wagons and instead focus on more popular albeit more conservative four-door sedans. Hyundai is one of the rare few that saw an interesting opportunity, which is why they introduced the
Elantra Touring
.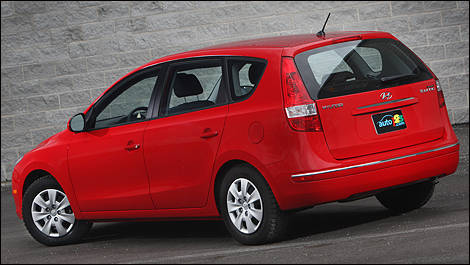 With its truncated-looking rear section, the 2009 Hyundai Elantra Touring looks like a small family wagon. In reality, though, it's a direct competitor of the Mazda3 Sport.
Upon seeing it, fans of Hyundai will immediately recall the five-door Elantra Wagon that was sold until 2000. Others will talk about a successor to the Ford Focus ZXW, which bowed out in late 2007 as the next-generation Focus arrived on the scene. The angular body and tall profile indeed give the impression that the new 2009 Elantra Touring is a family wagon.
To be or not to be a wagon
Yet, in North America, Hyundai representatives make a point of avoiding the dreaded W-word. During the car's debut at the 2008 Chicago Auto Show, a bigwig from Hyundai Motor America limited himself to saying that "the all-new 2009 Elantra Touring is a sportier, more functional variant of Hyundai's popular Elantra sedan" -- as if the "wagon" label would stigmatize the vehicle.
In Europe and Asia, on the other hand, the manufacturer is clearly less afraid of words. Over there, this Elantra is called "i30cw", a name that hardly rolls off the tongue but makes a direct connection to the i30 compact hatchback (unavailable this side of the Atlantic). As you might have guessed, the additional letters mean "Crossover Wagon".
That said, you have to admit that the truncated-looking rear section of the Elantra Touring, with an ultra-short overhang, fuels the ambiguity. After all, such silhouette limits total cargo capacity to 1,395 litres. That's not very much considering that a 2007 Focus ZXW offered a maximum of over 1,500 litres and that the Chevrolet HHR exceeds 1,800 litres.
In fact, let's forget about the wagon persona and boxy styling -- the 2009 Hyundai Elantra Touring is best compared to other hatchbacks like the
Toyota Matrix
and soon-to-be-discontinued Pontiac Vibe as well as the Dodge Caliber, Jeep Compass,
Mitsubishi Lancer Sportback
and Mazda3 Sport, just to name a few.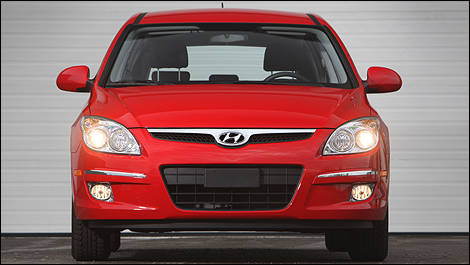 The generous greenhouse provides excellent visibility.