The economy melting faster than the ice caps, oil wells are drying up, and horsepower is losing relevance to environmental responsibility. Some believe the world is coming to an end, and North Americans are scooping up more small cars than ever.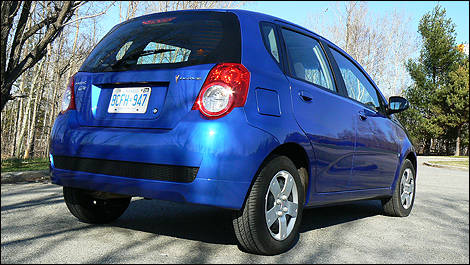 At writing, shoppers paying cash could get into a base model Wave for as little as $8,995.
As a result, funky little models like the
Pontiac
Wave are enjoying lots of attention these days. Whether you're a student looking to upgrade from a bus-pass or you need a reliable ride to last until the apocalypse, Wave is a model worth checking out.
It's miserly on fuel, very easy to drive and cheap to run. It's not bad to look at, and it also supports the North American economy-- sort of.
Okay, so technically the Wave is a re-badged Daewoo Kalos. Us North Americans also call it
Chevrolet Aveo
, Australians call it the Holden Barina, and Suzuki sold it with a 'Swift' badge in the not-so-distant past.
Daewoo is a badge-engineering powerhouse, but also a Koren GM subsidiary. Point is, even if the Wave is part Korean, it remains the only American compact in its class.
A confident-looking compact
No need to fear the 'little car' jokes from your friends with this one. A nicely accented and energetic shape enables the Wave to pull off some great small car visuals. It appears more confident, cohesive and visually dense than many competitors-- more like a little toy, and less like a rolling appliance.
As with the body, designers didn't simply give up on the looks when they were handed a small car. Compared to something like a Kia Rio or Hyundai Accent, the bright and modern cabin atmosphere offered by the Wave is refreshing. So is the motorized sunroof, incidentally.
Sure, the cabin is lined with hard plastic, and some controls around the steering wheel feel like they came from the nineties. However-- various metallic accents, textures and an overall sense of energy help dress things up.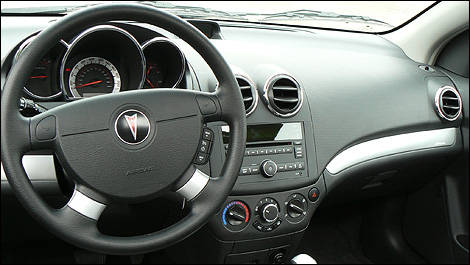 The cabin is lined with hard plastic, and some controls feel like they came from the nineties.