Purchasing a hybrid isn't a no-brainer. You obviously want to save on
fuel
costs if you're considering one, and you're conscious about the part you have to play in order to save the planet. You might also want to look trendy riding in a hybrid vehicle; the
celebrities do it down in Hollywood
, so why can't we?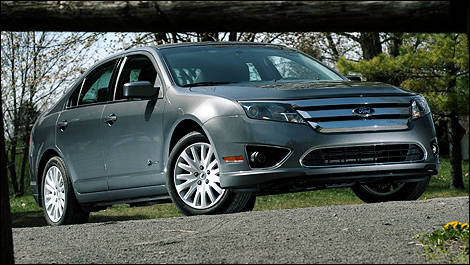 The Fusion Hybrid is one of the most-efficient and the most driver-involving. (Photo: Matthieu Lambert/Auto123.com)
However, one must figure out how much money they will actually save over the next four to five years, and if it's really worth the extra initial cost over a conventional sedan. This exercise must also be done with the
Ford Fusion
.
The Hybrid version is equipped with an Atkinson-cycle, 2.5-litre 4-cylinder that develops 156 horsepower and 136 lb-ft of torque. Combined with a 106-hp electric motor and a continuously variable transmission, the powertrain belts out a total of 191 horsepower.
It's no rocket, but it's no slouch, either, reaching 100 km/h in 8.1 seconds; not bad for a hybrid, and quicker than every contender in our recent mid-size sedan comparison, including a 4-cylinder Fusion SEL.
The battery-operated Fusion also handles fairly nicely. Its electric-assist power steering sends a reasonably-good amount of feedback to the driver. In fact, the car's handling feels just like that of the conventional Fusion models, although its reflexes aren't quite as sharp, since the car is taxed with 400 extra pounds compared with a non-hybrid, 4-pot model.
As for the all-important factor why we buy hybrids, the Fusion's fuel economy average during our stay with us is 5.3 L/100, which is very good for a subcompact, fantastic for a mid-size sedan.
One great advantage the Fusion Hybrid has over its rivals, namely the Toyota Camry and the Nissan Altima hybrids, is that it can be driven on battery power alone to speeds up to about 70 km/h. In comparison, the Camry and Altima reach about 45 km/h before the battery gets help from the 4-cylinder engine.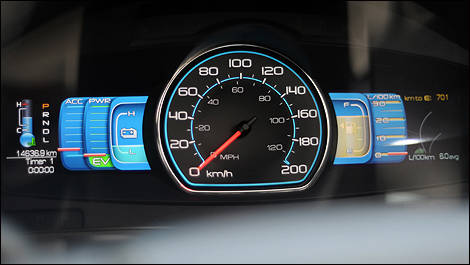 The Fusion Hybrid can be driven in EV mode up to about 70 km/h. (Photo: Matthieu Lambert/Auto123.com)