Some hybrids stand out with unique names and designs -- the Prius and Insight immediately come to mind. Others fly under the radar despite their remarkable fuel economy. They're found in various market segments under more familiar names like
Camry
, Malibu,
Altima
,
Escape
, Escalade and now Fusion.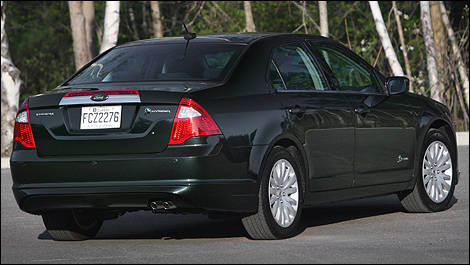 The 2010 Ford Fusion Hybrid is a new model in this midsize sedan's lineup.
Some hybrids stand out with unique names and designs -- the Prius and Insight immediately come to mind. Others fly under the radar despite their remarkable fuel economy. They're found in various market segments under more familiar names like Camry, Malibu, Altima, Escape, Escalade and now Fusion.
The latter may be the latest to hit the green scene, but that doesn't stop its manufacturer from positioning it at the top of its class. Ford indeed claims that the 2010 Fusion Hybrid annihilates the Camry Hybrid with 14-percent higher fuel economy (city and highway combined). Its hybrid powertrain can run exclusively on electric power for a longer period of time, namely up to 70 km/h (the Camry is limited to about 43 km/h). Meanwhile, the range of the Fusion Hybrid exceeds 1,100 kilometres in the city.
These impressive numbers are capturing the imagination of consumers and auto journalists alike. That's why I spent more time validating the performance of the car than assessing the comfort of its seats.
Familiar components
Similar to the Escape Hybrid and Prius, this Fusion uses only the electric motor to get underway. The combustion engine steps in as soon as the driver requires extra power. It's virtually the same 2.5-litre 4-cylinder that motivates the Escape Hybrid but with 22 fewer ponies (for a total of 155). Both these Fords (and the Camry Hybrid for that matter) rely on an Atkinson thermodynamic cycle instead of the much more common Otto cycle.
Power is routed to the front wheels through a continuously-variable transmission (CVT) which produces no awkward hiccups, even when taking off from a standstill. As far as CVTs go, Ford managed to achieve undeniable quality standards.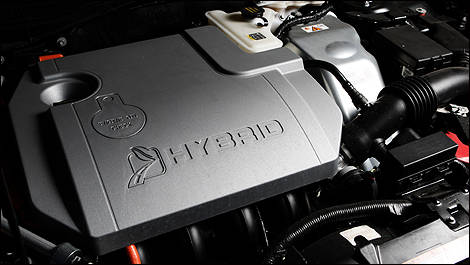 The hybrid powertrain's net output is rated at 191 horsepower, which is enough to accelerate from 0 to 100 km/h in 8.5 seconds.