Hyundai—the Korean manufacturer of relatively inexpensive high-value vehicles—is taking its modest compact crossover to new levels with the introduction of the completely new,
2010 Tucson
.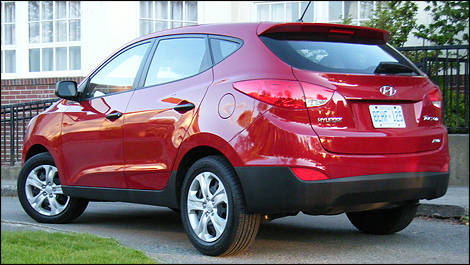 Hyundai stakes much of its claim on value, and the 2010 Tucson is a valid example of that ideal. (Photo: Rob Rothwell/Auto123.com)
In search of visual distinction
Its design was conceived and executed in Hyundai's recently established European-inspired design centre located in Frankfurt, Germany. Despite Hyundai's laudable effort to increase brand distinction while exciting the senses, I don't find the new Tucson's look to be appealing or inspiring.
The design is headed in too many directions at once to find any sort of defining theme or particular focus. At least that's the way I view it; obviously many others see it quite differently. Although the bodylines leave me distracted, the Tucson's overall build quality is impressive given its modest pricing.
Roomy cabin of modest means
The desirable build quality extends to the Tucson's unpretentious cabin. There's nothing too complex or unforgiving in the 5-seat living space although hard plastic is in liberal use, reminding occupants of the Tucson's economy roots.
Although the cabin's architecture is unremarkable, its ability to accommodate tall occupants is. Head and legroom fore and aft is quite generous for a compact SUV. Despite room for lengthy limbs, the seats are simply "okay" when it comes to comfort and support.
The flip-down rear seatbacks are easy to drop, providing a fairly flat load floor in aid of cargo loading chores. It wasn't necessary to remove head restraints or perform multiple steps to raise or lower the seatbacks.
The cargo hold was of sufficient dimension to absorb my road bike without the oft-necessary front wheel removal. With cycling gear neatly stowed, it was simply a matter of placing the Tucson in 'D' and moving energetically onward.
The desirable build quality extends to the Tucson's unpretentious cabin. (Photo: Rob Rothwell/Auto123.com)