This is a little Japanese car with the soul of a German machine. Not because it costs an arm and a leg. On the contrary, it's quite affordable. Its German-ness stems from its performance on the road, or from the surprising stiffness of its chassis. I am of course talking about the 2010 Mazda3 GX.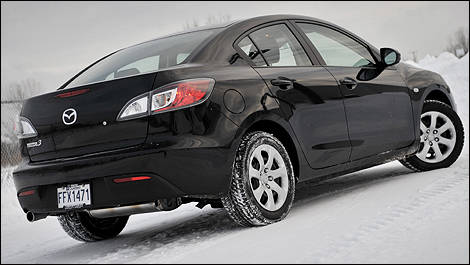 Although the Mazda3 GX is a basic model, it certainly isn't bare!
Yet, this compact sedan in no way resembles a BMW 128i. It is but the humble competitor of popular cars like the
Toyota Corolla
,
Honda Civic
, Kia Forte and Ford Focus.
Cheap, but by no means bare
Because it's a basic model, you would think it would be pretty bare and rather bland. But the opposite is true, and its driving dynamics confirm it. Zoom Zoom, indeed.
But this cheapest of Mazdas (while we wait for the
Mazda2
to arrive) isn't the cheapest compact sedan out there. If you compare base prices with the competition, the Focus S costs $996 less, the Corolla CE $735, the Elantra S $146 and the Civic DX $5. You get the idea. Naturally, these price differences tend to level out the minute you start spiffing up the cars with various extras.
German on the road
So, what's so German about the Mazda3? First, its driving dynamics. The Hiroshima firm has given its Mazda3 GX a precise, well-balanced power steering system, aggressive brakes that are easy to measure out and even a delightfully stiff suspension whose settings will be sure to please driving enthusiasts. A unique combination where affordable cars are concerned.
This is in fact one of the few compact cars whose standard equipment includes four wheel disc brakes with ABS. Only the Kia Forte and Ford Focus pack as much goodies into a basic model.
And the standard five-speed manual transmission deserves high praise. Even the GX's lowly status didn't prevent the automaker from pulling out all the stops here. Drivers will discover a precise gearbox with judiciously spaced gears that, along with the well-calibrated clutch, ensures worry-free operation even in dense traffic.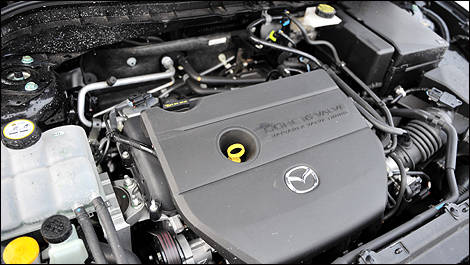 A sprightly 4-cylinder, 2.0-litre, 148-hp mill slumbers under the swooping hood.