Mercedes-Benz has long been associated with the rich and famous of the world. While it certainly won't get rid of its prestigious image anytime soon, the company realized over the years that even those away from the limelight can be fond of the shiny three-pointed star.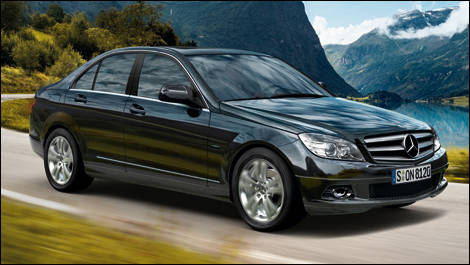 The suspension proves firm enough to mitigate body roll yet soft enough to swallow bumps and minor potholes. (Photo: Mercedes-Benz)
If you have a taste for unpretentious luxury, the Mercedes-Benz C-Class is precisely what you're looking for. Starting at $35,800 (or $39,500 with all-wheel drive), this car may not be accessible to anyone, but it's a good entry point nonetheless.
Assertive yet understated
While the C250 variant remains exclusive to the Canadian market, it wonderfully blends in with the crowd. Clean, understated styling prevails over the need to explicitly showcase brand affiliation. It carries just enough class and distinctiveness to gracefully age with time, like every other Mercedes for that matter.
Of course, you'll notice several design cues that make the sedan's identity unmistakable, such as the elegant chrome trim on the mirrors, the option of the three-pointed star logo on the grille or the hood, and the overall profile of the car.
Inside, the atmosphere isn't exactly akin to what we're used to from Mercedes-Benz cars, at least as far as the dashboard is concerned. Quality and attention to detail are found everywhere, while fit and finish is impeccable. However, to these eyes, the layout doesn't seem to be the work of a typically-firm German hand, if you know what I mean.
Still, the instrument panel stays true to Mercedes form with easy-to-read gauges and a pair of confusing levers to the left of the steering wheel; one controls turn signals, while the other serves for cruise control. Believe me, the latter is much easier to activate then the former.
Disappointingly compact
Seat comfort and the overall driving position could be described as reasonable. However, be prepared to get a bad feeling the very second you step inside the C-Class. You see, despite gaining a few centimetres during its latest redesign, this compact sedan still feels cramped, an impression that is emphasized by the limited amount of headroom due to the relatively low roofline.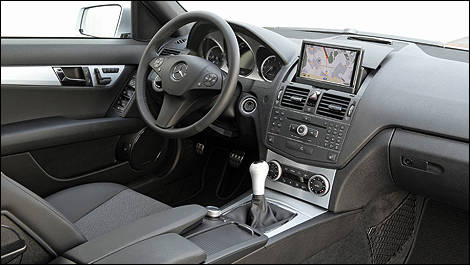 Seat comfort and the overall driving position could be described as reasonable. (Photo: Mercedes-Benz)