It's not often, at least here in the cold desolate North, that we get to see a grouping of cars such as those found in this evaluation. In fact, so rare and expensive are some of these cars that this was the first time that I had actually gotten the opportunity to sit in one, let alone drive it.
The cars in question are a 2011 Porsche 911 Turbo S, a 2010 Audi R8 5.2, a 2010 Chevrolet Corvette ZR1 and a 2011 Ford Mustang Shelby GT500. At $200,000, the Turbo S is the priciest of the lot and on that point alone, you are more likely to spot many 911 Turbo ($167,900) and GT3s ($142,400) on the road. The R8 comes in next at roughly $175,000. This beast, of the bunch, is by far the most exotic looking but in its price range, most buyers are more likely to spring for a 911 because it's a Porsche and not an Audi. Badges are that important to some.
Next, we have the Corvette. This car is the one that will fly under the radar every time because of its looks and insane power. At an asking price of just over $130,000, unless you want to be unique, you'll probably visit your local Porsche dealer for a Carrera. And lastly, the GT500. The underdog. The bargain. The attainable one. At a hair under $60,000, the Shelby meshes supercar performance and output numbers with Volvo wagon retail prices.
I'm going to be honest with you. The primary goal for this gathering was for a photo shoot which turned into fun and relaxed video shoot mixed in with a dab of light-weight track time. Let me add that trying to get these four cars together was feat unto itself!
The highlight of that warm sunny afternoon was driving the cars back to back. Although we did not go flat out, many differences were immediately noticeable especially where the German and American approaches to performance are concerned. Seeing as though I have had the opportunity to drive all but the ZR1 at length on different race tracks, here are the principal highlights of each car.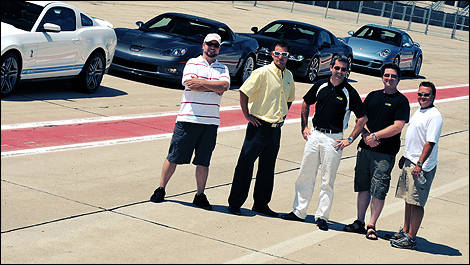 Photo: Matthieu Lambert/Auto123.com