Canada has a population of 34 million hockey fans, of which 4 million are deemed to be car enthusiasts. China, which sustains 1.3 billion humanoids, counts amongst its ranks 5 million car nuts. Given this ratio, it is clear that Canada loves cars.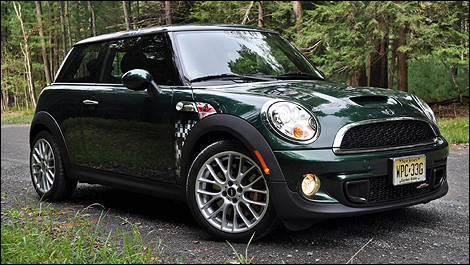 The MINI John Cooper Works hatchback starts at just under $37,000. (Photo: Mathieu St-Pierre/Auto123.com)
In a country where a large portion of its population lives in rural areas, it is no surprise then that of the 5 bestselling vehicles of 2010, we find two pickups. Another one is a minivan; we do love our families. The other two are compact cars, the
Honda Civic
and Mazda3. These two small cars are certainly affordable like many other compacts, but the reason why these two outsold the like of the
Toyota Corolla
,
Nissan Sentra
and Dodge Caliber is because of the way they drive – these cars handle.
Small rules
This also says something about the fact that we love smaller cars. Remember, these are C-segment cars, not Chevrolet Impalas and Toyota Camrys. If pricing wasn't an object, I can easily imagine Canadian roads covered in BMW 1 Series', Audi A3s and MINI Coopers. These little ones pack styling, handling, performance and impressive fuel consumption numbers. Of the three, the Cooper is without a doubt the smallest Big-Bang for the buck.
At a starting price of $22,000, the Cooper Classic is an attractive offering; many compacts in this price range will give you more power and more doors but never the handling. In case you've been living under a rock for the last few years, MINI has expanded its line-up with a Cooper Coupé, a 4-door Cooper Clubman and a 5-door Cooper Countryman.
Back on track. There are certainly a number of good front-wheel drive small cars to drive out there but without a doubt, the trophy, the top step on the podium and all associated glory goes to the John Cooper Works version of the Cooper. The VW GTI is nice, yes, but it's not as furious as the JCW.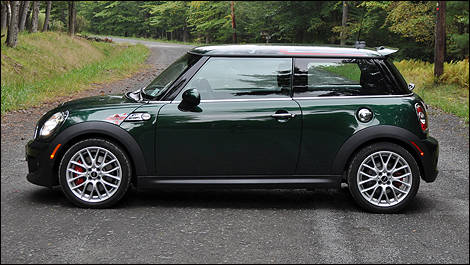 The trophy, the top step on the podium and all associated glory goes to the John Cooper Works version of the MINI Cooper. (Photo: Mathieu St-Pierre/Auto123.com)