It is tough to say whether the RVR comes in two models or three. The official designations are SE and GT, but the SE is available in 2WD with a five-speed manual transmission, while the upper trim automatic is 4WD only as is the tricked-out GT. Mitsubishi was kind enough to send me an SE with 4WD. With trim levels as close as they are in the SE and GT, I know it was an SE because I had a regular key (or what passes for one these days) and not the passive, keep-it-in-your-pocket fob.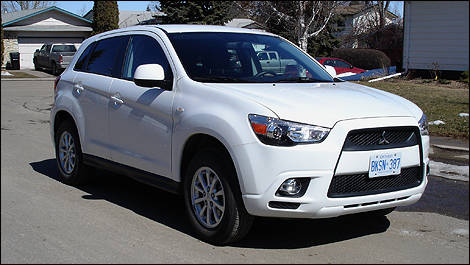 This Mitsubishi truly can take on any and every aspect of daily driving in an inconspicuous and well-mannered way. (Photo: Charles Renny/Auto123.com)
Engine and Fuel Economy
Regardless of which model you choose, all of them come with the same 2.0-litre I4 engine that puts out 148hp and 145 lb-ft. of torque. This may not seem like much when compared to the mega-motor SUVs on the market, but they don't haul the freight and get the best fuel economy in their class. Rated at 8.4L/100km in the city and 6.6L/100km on the highway for the automatic, those are pretty good numbers for the Mitsubishi RVR.
Transmission
There are a few things you should know about the RVR's automatic: First off, it is a CVT which, in short, means that it is a very efficient transmission. Next on the list of notable characteristics is that when you stick the thing in drive, it is close to the most boring vehicle you are going to drive. The motor makes plenty of noise, and you do accelerate (thankfully), but that's about it. At half-throttle, acceleration is deceptively quick which, depending on your attitude at the time, may or may not be a problem. If you floor it, the RVR does take the most efficient route to fastest acceleration and you really do notice the abrupt change -- but it definitely didn't feel like a gear change.
The next big transmission point is that every automatic in the RVR is a CVT and every one comes with Sportronic™ shifting. No, there aren't any paddle shifters except on the GT. Since I had an SE, I used Sportronic™ the old-fashioned way; I actually moved the shifter lever to get the feeling I wanted out of the acceleration. The CVT used is the same for all versions, so any differences I felt were just different shift maps being put in place. In any case, the hardest part about driving with a CVT is getting used to it so that you can get the most practicality and fun out of the gearbox instead of being frustrated at how different it is.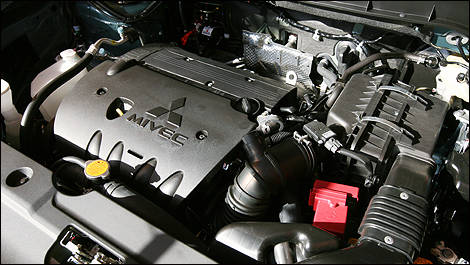 Regardless of which model you choose, all of them come with the same 2.0-litre I4 engine that puts out 148hp and 145 lb-ft. of torque. (Photo: Mitsubishi)