It must be pretty frustrating for a manufacturer to spend years and millions of dollars to develop a new car or truck, just to see a lukewarm reception by the buying public. Slow sales due to an underwhelming product can happen, but when your car or truck is really good, gets good reviews from the media and is competitive in its segment, it must really hurt when you don't see it sell like it should.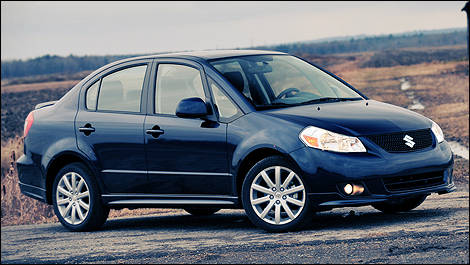 The Suzuki SX4 is a roomy, fun to drive compact sedan that can hold its own against the segment leaders. (Photo: Matthieu Lambert/Auto123.com)
It must be the case with Suzuki and its SX4.
Year after year, we review the
SX4 sedan
and give it our blessing, because it's got many qualities that we think will please lots of consumers. It also has a few shortcomings.
Suzuki calls its SX4 a sport sedan, and we can't really argue with that. It might not be a razor-sharp as a
Mazda3
or a
Ford Focus
, but it certainly involves its driver as much as a Mitsubishi Lancer and a Volkswagen Jetta.
Every SX4 is equipped with a 16-valve, 2.0-litre four that produces 150 horsepower and 140 pound-feet of torque. A 6-speed manual is new for 2011, while the optional continuously variable automatic (CVT) was added to the 2010 model. Our test car is equipped with the latter.
We clocked a 0-100 km/h time of 9.5 seconds, which isn't bad but about average for the compact sedan segment. The SX4's 4-cylinder isn't an example of smoothness, and it doesn't sound as refined as the Civic's 1.8-litre unit, but it gets the job done nonetheless.
Despite the recent improvements, the 2.0-litre engine still can't quite match the class leaders in terms of fuel economy. Our average of 8.8 L/100 km is appreciable but not extraordinary.
You might, however, feel like driving in a more spirited fashion in the Sport trim. It includes paddle shifters with the CVT, and is shod with P205/50R17 performance rubber. Its steering is precise and its suspension is stiff but not too stiff for discomfort.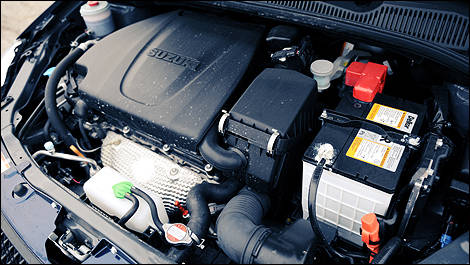 Every SX4 is equipped with a 2.0-litre engine that produces 150 horsepower and 140 pound-feet of torque. (Photo: Matthieu Lambert/Auto123.com)