I was cruising on the highway and the late great Michael Jackson's hit
The way you make me feel
was blaring through the A6's Bose audio system. The sun was out on this Saturday morning. Everything seemed right with the world.
Behind the wheel of the 2012 Audi A6, my wife and I were headed to Costco. The pinnacle symbol of the land of plenty, this store robs us of many hundreds of dollars every month. And we like it. Finding a parking spot is always a challenge, but the wife and I have developed a nearly flawless system that always gets us choice locations near the front door. As I walked away from the car, I could not help but stare back at it.
Sheetmetal and leather
The current A6 is, excuse the visual, a middle finger to most other midsize luxury cars. Save for the very seductive
2012 BMW 5 Series
, the A6 puts to shame most other competitors without even trying. Its subtle, sensual lines create no feelings of aggression or put forth any in-your-face aspects. It leaves others in awe with its "uber coolness without even trying."
As LED lighting pioneers and with one of the most distinctive fascias in the car business, Audi cars exude confidence and it's that strong, powerful feeling that draws customers in droves to dealerships.
Once out of Costco, the trunk filled with 25% of stuff we need and 75% of junk we don't, we slide aboard the A6, onto the welcoming seats and take a deep breath. The madness and frustration brought on by navigating hectares of bits and pieces at a Costco store on a weekend quickly dissipate.
As a driver or any of the four possible passengers, the 2012 Audi A6 surrounds each individual in materials that are typically as good as or better than what we find in our formal living rooms. The front occupants are especially well treated with plenty of room for all appendages. At the helm of the A6, I get to grasp a perfectly crafted steering wheel and am served by a centre stack that is slightly angled towards me.
I start up the car and in less than an instant; the navigation/user interface screen rises out of its hiding place, posts the rear-view camera's images and we pull out of our spot. The driving position leaves no doubt in my mind that this car, like most German automobiles, was designed for the open road. That's where we're headed.
With the Audi Drive Select system set to Auto (Comfort and Dynamic are the other options), we get back on the highway and in no time, have reached our 35,000-foot cruising altitude.
Powerfully velvety
The 2012 Audi A6's 3.0L TFSI V6 is as creamy as it powerful. The supercharged 310 hp and 325 lb-ft of torque are brilliant. Mated to a silky-smooth 8-speed autobox, the big sedan can reach 100 km/h in 5.5 seconds.
Throughout the test week, I was repeatedly reminded how well sorted the A6's powertrain was. The refined V6 and seamless transmission constantly brought me to above legal-limit speeds before I would become conscientious of it. This is why many of these cars are equipped with programmable speed warnings. The build quality, noise/vibration/harshness control and muffled mechanicals played tricks on me.
As I merge onto the freeway, no time passes before we are flowing with the surrounding traffic. The V6 is barely above tick-over at 100 km/h and is all but inaudible. Making plans for our Saturday afternoon is easy: we can practically whisper to each other and we have a fantastic set of wheels to take us wherever we want.
We opt for a drive in the countryside. After dropping off our stash at home, we head north. The 2012 Audi A6's multi-link suspension and speed-dependent electromechanical steering entice me to fling the car from one flowing apex to another. The A6's high-strength hybrid aluminum construction plays a huge role in making the car as nimble and tossable as it is. The wife is enjoying the ride and the tunes from satellite radio.
I pay little attention to where we were going as I know that, should I lose my bearings, Audi's navigation system will quickly and painlessly point us back in the right direction. We stop for a snack at a small diner in the centre of the middle of nowhere. I once again find myself admiring the car. Of the available colors, not one will fail to highlight its sculpted body. The impressive 20" 10-spoke wheels are spectacular.
Feeling good
Our brief getaway turned into a mini vacation from the norm. The entire experience was refreshing and when it came time to fuel up, I noted a 10L/100km fuel consumption. Not only had we had a blast enjoying the car on some great roads, but we had no reason to feel guilty about driving a large luxury sedan.
The 2012 Audi A6 has a starting price of $58,800. My Premium Plus (like the crackers) version wrung it at just under $70,000 with a number of options. Shortly, Audi will be offering the A6 with their excellent 2.0T engine. Pricing has not yet been announced, but expect it to hover around $50,000.
Let's face it. We buy nice expensive things to feel good or better about ourselves and currently, it is difficult to outdo what an Audi can do for your mood.
Road Tests and Reviews

Consumers
2012 Audi A6 3.0 TFSI quattro Premium Plus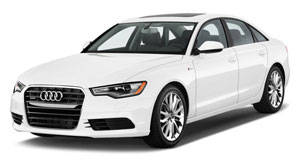 2012 Audi A6 3.0 TFSI quattro Premium Plus