The Escalade is, for good or bad, the first model most would mention when asked to name a Cadillac product. Eldorado, DeVille and Fleetwood are all nameplates that have faded over time, unlikely to be remembered as cars that made Cadillac a household name known the world over.
The Escalade took the world by storm when its current guise hit the red carpet in 2007. The storm was soon over when the economy collapsed barely two years later. The Escalade fell out of favour just as the new 2009 Escalade two-mode hybrid hit the shelves.
A real hybrid
According to
moi
, a Hybrid vehicle is one that can run on either form of energy available on tap, exclusively. The Escalade Hybrid features an electric propulsion system with a 300-volt hybrid battery pack, and because of its two-mode nature it can, and does, run as often as possible on electricity alone.
Unlike a large number of other hybrids that use CVT transmissions, the Escalade uses a two-mode continuous electric-ratio hybrid transmission with four fixed gears. As simply as I can explain it: this impressive transmission seamlessly navigates through six operating functions through the four fixed gears, and the two electric continuously variable transmission (ECVT) modes... Whatever, it works especially well.
The other small element is the 332 hp 6.0L V8 with active fuel management. Altogether, they not only make the 2012 Cadillac Escalade Hybrid move with assurance and gusto, but they manage to do so without chugging an inordinate amount of fuel. I averaged a paltry 12L/100 km over a week's drive.
That same week, we had a
2012 SLP Cadillac Escalade Supercharged Sport Edition
and actually had a bit of fun pitting the two against each other. More on that at a later point. but (spoiler alert!) I did not prefer the 525 hp SLP monster.
Refined hybrid
A strange thing is happening: I'm really appreciating everything oversized currently offered by car makers. The likes of the
Lincoln Navigator
and
Infiniti QX
are so cosseting that many luxury cars could stand to spend some time in class with the rude and crude trucks.
The Escalade Hybrid is as comfortable, solid and luxurious as one would expect -- with a slight twist. It was a leader in all of these criteria three or four model-years ago. It's still good, but it's severely lagging behind design-wise. However, all the bells and whistles are present and accounted for.
The seats are huge and cozy, as is the rear bench. The third row is a no-longer-clever marketing ploy. What's worse, the 3rd row must be physically removed to access all of the trunk's volume. This is a fail in 2012.
Aesthetically, the Escalade is still handsome, but like the Navigator its slab-sided, un-sculpted body lacks imagination and inspiration. It ain't ugly, though...
Fine driving hybrid
As with all luxury SUVs, the 2012 Cadillac Escalade Hybrid rides regally. The Hybrid's standard Magnetic Ride Control suspension seems as though it's always one step ahead. Neither rut nor onramp would upset the big truck's stability -- that is, unless the driver foolishly overdoes it speed-wise.
The brakes and brake-pedal feel are not affected by their regenerative functions; in fact, I found them as (or more) responsive than in the SLP. Same goes for the steering: I felt as though the power electric rack and pinion was better judged and more precise in the Hybrid than the other.
In fact, the Hybrid experience was great overall. Far more surefooted and agile than I expected, the big 'Slade was (dare I say it?) fun to drive...
The Escalade deal
The 2012 Cadillac Escalade Hybrid is great, except for the fact that it's an Escalade. The spotlight time for gargantuan people-movers faded long ago, and as the GMT900 platform gets long in the tooth, the marketability of these vehicles becomes increasingly more difficult.
GM's hybrid system is efficient, very functional and still quite modern. If I were GM, I'd leave the powertrain well enough alone and concentrate on a new shell and cabin.
At $95,000, the base Escalade Hybrid is decently priced, but then again it's the only one of its kind currently on the market. The tested, fully kitted-out version tips the MSRP scale at a whopping $110,000.
As a final comment, I wouldn't rebadge a
Traverse
and call it "Escalade." I really don't think this will do well.
Road Tests and Reviews

Consumers
2012 Cadillac Escalade 1SD Package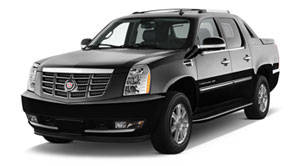 2012 Cadillac Escalade 1SD Package