The Dodge Caravan launched the minivan craze back in 1983, and now remains as the Grand Caravan. SUVs and crossovers have gutted the market for minivans but the reality is, there's no better or more efficient use of space than the minivan.
Grand Caravan - grand value
Before discussing this week's tester, which is the chart-topping R/T version of the 2012 Dodge Grand Caravan, a word or two on value is justified.
While the generously equipped R/T is tagged at $38,895, Dodge offers a decently equipped Grand Caravan for as little as $19,995 (after an $8,000 rebate currently offered).
Termed the "Grand Caravan CVP" (Canadian Value Package), the unit features standard equipment that includes Chrysler's modern 3.6L V6 engine and their new 6-speed automatic transmission along with keyless entry and plenty of comfort and convenience installations, such as Stow 'n Go second row seating.
I'm hard-pressed to think of a better equipped or more spacious people-mover for sub-$20K. With the value quotient established, it's onto the $38K+ R/T.
Conservative looks outside - classy cabin inside
I like the clean, orderly appearance of the Grand Caravan. In my view, it's among the best of the diminishing pool of minivans. Fortunately, Dodge reworked the Grand Caravan inside and out last year, and the results are more upscale and inviting.
Moving up to R/T trim brings even greater delight to the cabin, with leather on the heated front and second row seats, which are highlighted with red stitching. R/T equipment also includes a heated steering wheel, sapphire blue interior lighting and 17" aluminum wheels.
Complementing the R/T's resplendent comfort is leading-edge technology in the form of Chrysler's
Uconnect
Voice Command interface with Bluetooth phone connectivity and streaming
Bluetooth
audio played through a nine-speaker sound system.
The "grand" in Grand Caravan applies to more than just comfort: practicality and versatility also factor in.
The practical side of grand
The Grand Caravan has always emphasized practicality and convenience, and that continues to be the case with items such as optional Stow 'n Go second row seating. These perches are quite unique, and an intriguing example of thoughtful engineering.
When the second and third row Stow 'n Go seats are dropped, a vast flat-floor cargo bay is the reward. This function transforms the vehicle from a comfy people hauler to a tremendously capable cargo van, and that may have great benefit to some purchasers, such as business owners that want a single vehicle to support their family needs as well as business applications. Either way, the 2012 Grand Caravan delivers refined performance.
Starring the Pentastar
A strong performer is the only engine available in the Grand Caravan. Chrysler's sophisticated 3.6L Pentastar V6 has been lauded by the media for its smooth, linear output of 283 horsepower.
Buckled to a 6-speed autobox, the new mill hustles the Grand Caravan rather vigorously while achieving decent fuel economy, which is rated at 12.2L/100km and 7.9L/100km city and highway driving respectively.
My real-world motoring returned something closer to 14L/100km in the city but that's to be expected under my foot. While minivans aren't known for frugality at the pumps, this week's tester did OK when one considers its size and power output. Still, today's technology should produce better results.
At the wheel
Most appreciated while at the wheel of the Grand Caravan were its agreeable driving dynamics, marked primarily by a smooth ride and pleasing operational polish. The vehicle is quiet, with little road noise intruding upon the hushed ambience.
Its genial attributes made the Grand Caravan relaxing and enjoyable to drive. And I don't mean "enjoyable" from a performance perspective. This is a large box riding upon absorbent springs, so don't expect razor-sharp handling dynamics despite a fairly quick steering ratio.
A grand summary
The much maligned minivan continues to haul families and their goods with great ease and comfort, and the 2012 Grand Caravan is the quintessential example of those strengths; it's also an example of value.
This van has come a long way since its 1983 premiere, and Chrysler has learned a thing or two along the journey, leading to improved quality and performance -- and, I'd argue, value. The CVP trim level has been purposefully packaged to emphasize this aspect of Canada's third best- selling vehicle in 2011.
It's worth noting that the current entry fee for Toyota's popular Sienna minivan is in excess of $8,000 more than that of the Grand Caravan CVP while Honda's Odyssey demands more than $11,000 over Dodge's family stalwart.
Road Tests and Reviews

Consumers
2012 Dodge Grand Caravan R/T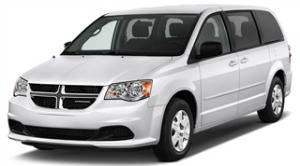 2012 Dodge Grand Caravan R/T