Model: 
Kia Sedona
: Used
Vehicle Type:
Minivan
The Verdict:
Sedona's lower-than-average resale values, performance and lengthy list of features will create some appeal for used minivan shoppers on a budget, though purchasing a used model without a full electronics inspection and computer scan by a Kia dealer mechanic is strictly not advised. Protect yourself with as new a model as your budget allows and with as much of the factory warranty remaining as possible.
Price:
Look for pricing as low as $5,500 on an early, high-mileage Sedona, climbing well into the $30,000 range for a newer, low-mileage unit with all the toys. There's plenty of selection in the mid to high teens.
Photo: Philippe Champoux
History/Description:
Kia's Sedona minivan delivered plenty of safety, convenience and affordability, as well as a high 'volume per dollar' ratio that challenged competitors like the
Honda Odyssey
,
Nissan Quest
,
Toyota Sienna
and the segment's sales superstar, the
Dodge Grand Caravan
.
Feature content included power accessories, cruise control, steering wheel mounted audio controls, Bluetooth and more. Projector lights and a windshield wiper defroster helped with all-season visibility. A backup camera, power sliding doors, a power tailgate and power adjustable pedals were available too.
Nomenclature saw the LX badge worn by basic models, with LX Convenience indicating the inclusion of numerous must-have features at value pricing. Upscale models were called EX and EX Luxury, respectively.
Under the hood? A 3.8L four-cam V6 with 244 horsepower in earlier models, replaced from 2011 by a 3.5L V6 with 271 horsepower. Shoppers should expect a 2011 or 2012 Sedona to turn in better mileage and acceleration thanks to the updated powerplant and new six-speed transmission.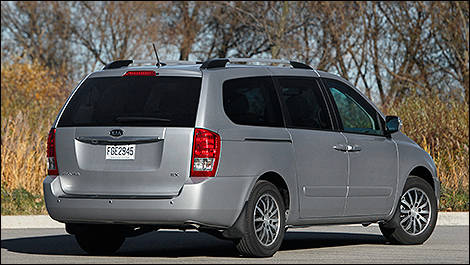 Photo: Philippe Champoux
What Owners Like:
Ride comfort, seat comfort, space, at-hand storage facilities and overall flexibility were all highly rated by Sedona owners. Performance is very highly rated with either powerplant, and the second-row climate control system was a hit with parents, too.

What Owners Dislike:
Some cheap interior controls, a potentially noisy air-conditioning system, easily chipped paint and mediocre gas mileage are among the most common complaints.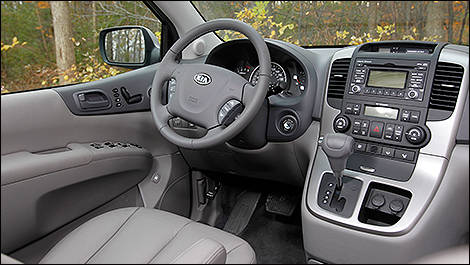 Photo: Philippe Champoux
Common IssuesWith The Used Kia Sedona
: Since numerous owners have reported alternator problems, as well as problems with battery charging, a check of the Sedona's charging system by a Kia-trained mechanic should be made ahead of your purchase. The out-of-warranty cost of parts and labor to replace an alternator on a Sedona are relatively high.
Drivability issues like sporadic acceleration, hard starting, stalling, reduced power output or 'lumpy' power delivery could be the result of a bad engine sensor. A scan of the engine control computer system can reveal any hidden sensor related issues, even if the vehicle is running properly on your test-drive.
Sensors also control the Sedona's transmission and if they're experiencing issues, hard shifting, slipping or failure to shift may be the result. If you note any strange or unwelcomed behavior from the transmission during your test-drive, be sure to have it investigated before agreeing to purchase.
Note that some owners have reported oil leaks on the 2011 and newer Sedona from the oil filter housing or oil pressure switch.
On the electrical front, check for proper operation of the headlights as numerous owners report having to change burned-out bulbs frequently. Listen to the power windows, one at a time, to ensure they make no grinding or scraping sounds during operation. If they do, a bad window regulator is the likely culprit.
Photo: Philippe Champoux