In a market segment as lucrative as the full-size pickup category, we shouldn't be surprised to see manufacturers' strategies consisting of offering several trim lines to suit all tastes. At Chrysler, the multiplication of trims and special editions seems to work out for them, as sales are increasing.
In addition to the ST, SXT and SLT, the Ram offers Tradesman, Express, Outdoorsman, Big Horn, Sport, Laramie, Power Wagon and - the subject of our test today - Laramie Longhorn, the most lavishly equipped of the vast line-up.
Let's just say that luxury takes on a peculiar meaning within the Ram brand. Its cockpit dressed in brown leather, livestock horns and Western-style design patterns makes us wanna jump in a pair of cowboy boots, put on a Stetson and hit the road all the way to Texas.
A wagonload of torque
The 5.7L HEMI V8 is standard in the Ram 2500/3500. Despite a premium of $11,245, or roughly the price of a brand-new
Nissan Versa Sedan
, many buyers are instead choosing the 6.7L Cummins turbodiesel inline-6, which is saddled with a 6-speed automatic. A manual gearbox is also offered.
Down two pistons compared to the diesel engines in the Ford F-Series Super Duty,
Chevrolet Silverado HD
and
GMC Sierra HD
, the Cummins lump develops 350 horsepower, and a colossal 800 lb-ft of torque at a low 1,500 rpm. Thanks to this prodigious twisting force, this Crew Cab, long-bed Ram 2500 can tow up to 14,300 lbs (6,486 kg), while its payload capacity is 2,030 lbs (921 kg).
Certain versions of the Ram can pull up to 22,750 lbs, which seems unreal. We're a little short, however, of the maximum towing ratings of GM (23,000 lbs) and Ford (24,500 lbs). Still, you get a diesel exhaust brake, very useful for controlling truck and trailer speed, and making you feel as if you were driving an 18-wheeler.
As for fuel economy, the Laramie Longhorn used up only 17L/100km in our hands. The last Ram 2500 we tested with a HEMI engine guzzled down more than 20L/100km.
Country style
Like the King Ranch edition in the F-Series line-up, the Ram brand also decided to offer a pickup that would please Garth Brooks fans.
The cabin is dressed up Western style, with laser etching in the leather upholstery; you either like it or you don't, but nevertheless, it's nicely executed, just like the dash and door panels that are trimmed in leatherette with contrast stitching.
There is, however, an excessive amount of Longhorn logos and ram's head badges: on the seats, the centre armrest, the steering wheel, the centre console and the glove box lid. Yeah, we get it.
Not easy to park
With a crew cab and a longer 8-foot bed, the Ram 2500 isn't the best steed for grocery getting at the general store. With an overall length of 259 inches or 6,589 mm, it's wise to find two spots in tandem, far away from other vehicles. The backup camera is an essential feature, which is standard on the Longhorn and optional on other Ram trims.
The turning circle circle of this brute also complicates manoeuvres in the urban jungle. In addition, the truck's dimensions and the sound of the Cummins engine intimidate pedestrians, who give us the nasty look as we drive by. Ah, but on construction sites and in villages of the Far West, no problem -- the heavy-duty Ram is in its element.
For big budgets
The Ram 2500 starts at $35,345 for a Regular Cab, short bed 4x2 model. However, our Laramie Longhorn 4x4 equipped with the turbodiesel engine and the longer bed costs more than $70,000, which isn't within reach of every cowboy. But cheer up -- the Ford F-350 King Ranch is even more expensive.
Muscular, luxurious and utterly enormous, the Ram 2500 Laramie Longhorn is one of the best ways to show off at the country fair. As a workhorse, you can't ask for much more, but personally, I'd go for a less-expensive trim line of the Ram that's just as hard-working.
Road Tests and Reviews

Consumers
2012 Ram 2500 Laramie Longhorn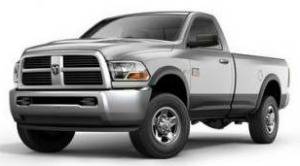 2012 Ram 2500 Laramie Longhorn