There's no shortage of room and comfort in the 2012 Suzuki Kizashi Sport. The leather seats remind me of a super-comfy couch that every guy would dream of sitting in to watch TV - with heated cushions to boot. Add lumbar and thigh support, not to mention a convenient centre console with padded armrest, and it's a treat for front occupants. Legroom is generous in the back, too.
The standard Kizashi comes with Bluetooth, all-wheel drive, and a continuously variable transmission (CVT) for $27,995. The Sport model features the aforementioned plus leather seats, a premium sound system, power sunroof, 18'' alloy wheels, sport-tuned suspension, rear spoiler, and chrome accents for an extra $5,000.
The multifunction steering wheel offers a myriad of redundant controls for the stereo, phone, cruise control, as well as paddle shifters. The dizzying array of buttons practically have the driver searching for the horn. On a more serious note, wheel ergonomics are good, allowing for proper hand position at 9 and 3 o'clock.
The suspension delivers a nice balance between ride and handling for a sporty sedan, while steering was pleasantly responsive. Completing and further validating this spacious and upscale package is a 2.4L 4-cylinder engine that produces 180 horsepower and a healthy 170 pound-feet of torque.
But honestly, what's the point of having paddle shifters with a transmission that doesn't have actual gears? You can add all the simulated gears you want, the feeling just isn't the same. In fact, I was under the impression that someone tried to fool me.
Did I tell you how roomy the Kizashi is? Right, I did, however, I failed to mention the trunk, which is huge. By folding one section of the 60/40 split seatback, I managed to fit four tires with little effort, and I still had plenty of room left for a couple of boxes and bags. This car is longer than a small CUV like the Kia Sportage, so cargo capacity is never really a concern.
As far as electronics are concerned, I appreciated the Kizashi Sport's 3-position memory for the driver's seat, rear parking sensor, and automatic headlights. The latter are fantastic; I quickly lost the reflex to turn them on. The parking sensor, occasionally a bumper-skin savour, starts to beep within five feet of an object or person.
The first thing I noticed upon firing up the engine was a deep, loud rumble which I quickly got used to. With the CVT, accelerations are swift but rather noisy, with the tach needle flirting with 6,000 rpm until top speed is achieved. At that moment, the on-board computer posts a fuel consumption figure of 30 L/100km, which is scary enough yet realistic. In normal driving conditions, I recorded an average of 10 L/100km.
The Sport version of the 2012 Suzuki Kizashi also stands out with push-button start. Just leave the keyfob in your pocket or purse, depress the brake pedal, and the engine will start. If you want to turn on the accessories only, avoid the brake pedal and push the button. On the other hand, it all shuts down when the engine stops. Too bad if you were having a great conversation on the phone using the Bluetooth hands-free connection.
The 9-speaker Rockford Fosgate audio system delivers decent sound. There's even a subwoofer to add a pleasant little kick. The bad news is that the navigation system isn't really user-friendly and doesn't come with touchscreen. Moreover, the Bluetooth setup works through voice commands only.
Not sure if you're willing to spend more than $30,000 on a Suzuki? For about the same price, you could buy a more fuel-efficient
Honda Accord
(albeit without the sporty character of this Kizashi) or a
Volkswagen Jetta
that offers superb driving dynamics minus the visual flair.
Ultimately, the 2012 Suzuki Kizashi Sport remains a spacious and comfortable sedan with a ton of goodies and a sporty feel. This sleeper of a midsize car is definitely worth a test drive.
This
2012 Suzuki Kizashi Sport
review was originally published on Auto-Venus.com.
Road Tests and Reviews

Consumers
2012 Suzuki Kizashi Sport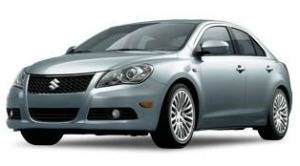 2012 Suzuki Kizashi Sport