The fourth-generation
Acura TL
launched for model-year 2009, and is due to be replaced any time by a new, fifth-generation machine. It's far from the freshest or newest model in its segment, but the current Acura TL is, however, one of the most established.
That's thanks in no small part to its delivery of performance, technology and everyday sensibility alongside two things premium shoppers love: an honest price tag, and the promise of reliable, no-nonsense ownership thanks to Acura's gleaming reputation for reliability.
The TL is getting old, but it remains a staple product in its segment that's well-deserving of a test drive.
What is an Acura TL?
The looks might still be controversial, but the Acura TL remains a great machine to drive, and a car special to the Acura brand. The current-generation TL put Super Handling All Wheel Drive (SH-AWD) technology into the mainstream luxury sedan market. Although it was late to the game, it pushed Acura sedans past the 300-horsepower mark, finally.
All of this exists in a highly usable package. There's generous room for four adults, plenty of at-hand storage, and a great, three-dimensional look to the instrument cluster, dashboard and controls. In all, you get unique styling that very much does its own thing while creating a distinctively upscale, tech-y atmosphere. Proper cup holders, deep door bins, and a sense of always having a place for your stuff help round out the package.
Key competitors include the BMW 5 Series,
Audi A6
and
Infiniti G37
.
2013 Acura TL Elite Price and Specs
All Acura TL models get a VTEC V6 engine displacing either 3.5L or 3.7L. My tester had the larger unit, which sent 305 horsepower optionally to all four corners via the trick SH-AWD system through a 6-speed automatic. A manual transmission/AWD combination is, thankfully, available. Standard models get the 3.5L powerplant and front-wheel drive.
Driving the 2013 Acura TL Elite
Though not pack-leading where output is concerned, the big V6 in the 2013 Acura TL is pleasing to listen to and really piles the juice on at high revs as the VTEC power cam kicks in. The 6-speed automatic works well with the engine for smoothness and response, supporting a sporty but very refined character.
The SH-AWD system, as noted on numerous other test drives, has benefits that are twofold. First, on slippery stuff, it finds surprising levels of traction using sophisticated computer controls and fast-acting magnetic clutch packs to extract the most forward momentum from the ground beneath. Second, when drivers push the 2013 Acura TL's limits a little, the system overdrives the inside rear wheel, which slightly slides the tail out and points the nose inwards in a sort of mini-drift.
Translation? You get playful agility and locked-on confidence, depending on what your right foot is up to on the surface in question.
That's all directed by a heavyset steering system that confidently transmits a sense of agility and playfulness to the driver, too. At the end of the day, few sedans are this all-out confident and discreetly entertaining when pushed hard.
Powerful and fairly communicative brakes back up the performance capabilities. When you're on a relaxing drive, wind and road noise levels are kept adequately in check -- so is fuel consumption. This engine might not have all the latest fuel-saving gadgets, but I still averaged under 10L/100km over the course of a week.
The xenon projector lights are fantastic, and the big doors and comfy seats make this an easy car to get in and out of. Finally, blind-spot monitoring and a slew of fully automatic or voice-commanded features on the Elite grade tester added a sense of effortless relaxation on lengthy road trips.
Inside and Out of the 2013 Acura TL Elite
Key strengths of the Acura TL are that it flies discreetly under the radar with its premium sedan execution. This isn't a machine that begs for attention, but rather focuses on sensibility and a quiet, confident demeanor. Though high-tech and sporty, the 2013 Acura TL is easy to drive, easy to learn, and requires nothing of the driver when they'd prefer to relax and enjoy a peaceful drive.
Key complaints? Simply, it's getting old. The navigation and infotainment read-outs are due for an overhaul, and so are many of the controls and interfaces on board. More power would help the 2013 Acura TL earn driving enthusiast dollars, and the lack of folding rear seats limits cargo-carrying capacity.
Comparing the 2013 Acura TL
Numerous competitors are more modern-looking, both inside and out. A comparable Audi or Lexus will boast a more striking cabin, and a comparable BMW or Mercedes will likely prove more all-out comfortable.
Without a "new" Acura TL shoppers after a car that's discreetly sporty, offers a proven reputation, delivers plenty of character, and delivers a pleasing overall driving experience should add the current TL to their "to test drive" list.
Road Tests and Reviews

Consumers
2013 Acura TL SH-AWD ELITE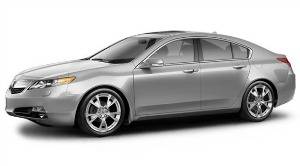 2013 Acura TL SH-AWD ELITE