As our slimmer wallets force us to ponder smaller vehicles and smaller engines, the minicar category is trying to gain some popularity in Canada and the U.S. The smart fortwo has been around for a few years, while the
Scion iQ
and the
Mitsubishi i-MiEV
were recently launched, and Chrysler imported the
Fiat 500
last year. Now, GM is trying its luck with the new
2013 Chevrolet Spark
.
Why? Because city cars make sense, at least for those who rarely leave the city. And the Spark will spawn a 100% electric version, called the Spark EV, which will go on sale in California next summer.
On the other hand, with a base MSRP of $13,495, the 2013 Chevrolet Spark will have a hard time justifying itself beside its Sonic and Cruze sisters. As tested, this Spark 2LT costs $20K, which is a few thousand dollars above what I assume people will expect to pay. That's too bad, because there's a lot to like about the Spark.
Park it anywhere
Usually, minicars are cramped inside, but not the 2013 Chevrolet Spark. Despite rear-seat occupants rubbing their knees a little on the front seatbacks, four adults will sit comfortably. The i-MiEV is almost asroomy as the Spark, while the iQ and Fiat only sport two doors and a miniscule rear-seat area.
The cheeky Spark is so small you can park like a douchebag and still keep it between the lines of a normal parking space. In addition, its pip-squeak size is a clear advantage for parallel parking on crowded city streets. Despite rather fat A-pillars, outward visibility is pretty good.
Alas, you do suffer from a small cargo area in the 2013 Chevrolet Spark. GM claims a cargo hold volume of 323 litres with the rear seats up, but it feels more like 250 with the cargo cover in place. During my bi-weekly grocery shopping, the Spark's trunk couldn't handle the six bags I tried to fit in. However, fold down the rear seatbacks and the number grows to 883 litres.
Hard-working engine
The 2013 Chevrolet Spark is equipped with a 16-valve, 1.2L four that develops 84 hp and 83 lb-ft of torque. Those numbers sound rather low these days, and they are; only the smart fortwo is less powerful -- and if you count EVs, so is the i-MiEV.
With a 0-100 km/h time of 14.1 seconds, the Spark isn't exactly rapid. However, it doesn't feel that slow under normal driving; not once during the test did I complain or swear about the car's lack of grunt, especially with the car's mission as a city dweller.
On the open road, the 2013 Chevrolet Spark actually drives bigger than it is. It tracks straight and true, like a larger car would. I was expecting it to be a chore out on the highway, and was surprisingly impressed.
Less impressive is the Spark's optional automatic transmission, which only counts four gears. Upshifts don't come quickly, leaving the small 4-cylinder stranded at high revs for a few seconds while filling the cockpit with engine noise. At 100 km/h, it spins at 2,600 rpm.
As much as I tried, with a mix of city and highway driving, I couldn't manage better than 7.5L/100km. If you want to obtain the Spark's highway rating of 5.2L/100km, you'll have to be extra gentle on the throttle and drive well below the speed limit on the open road.
The Sonic and Cruze both offer 6-speed automatics, which would help the Spark drop engine revs on the highway; then again, its higher cost would make the car even more expensive, and might not be well adapted to the 1.2L engine's modest output.
Hold the line on features
Although the 2013 Chevrolet Spark starts out at $13,495, our 2LT tester with the automatic lists for $19,995 when you add $250 for the metallic paint job.
You get 15" alloys; fog lamps; ten airbags; roof rails; power windows; A/C; heated front seats; leatherette upholstery; Bluetooth phone and streaming audio; a 6-speaker sound system with 7" touchscreen and a USB port; cruise control, and keyless entry. Still, 20 grand is a lot of dough for a minicar. Although that doesn't seem to stop the Fiat 500 from selling like hotcakes.
It sounds particularly expensive when you consider that a Kia Rio LX+ 5-door costs $16,995 and offers as many features (save for the leatherette seats). It's also bigger and consumes about the same amount of fuel while boasting
54 more horsepower
.
Road Tests and Reviews

Consumers
2013 Chevrolet Spark 2LT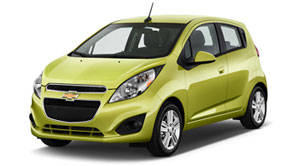 2013 Chevrolet Malibu 2LT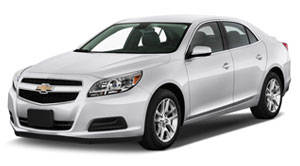 2013 Chevrolet Malibu 2LT