Read part 1 of: 2013 Hyundai Santa Fe Sport SE Long-Term Test
As you can imagine, long-term tests on new cars can and do reveal both strong points and shortcomings. This is the principal reason why they are a worthy indicator of initial quality, and can serve as a window into the vehicle's future.
Having taken the first-come-first-serve approach to loaning out the Santa Fe to staff members, we managed to alleviate logistical issues. Well, sort of... Anyhow, let's get right into the thick of it.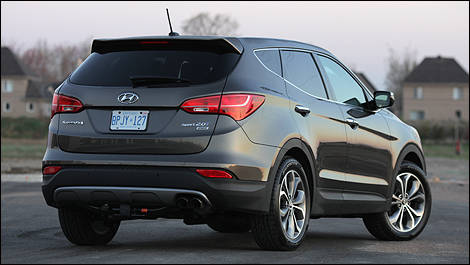 Photo: Philippe Champoux
The bad
Our
2013 Hyundai Santa Fe Sport SE
has been doing the rounds, and straight up: it's not been all fun and games. There have been a few reoccurring issues.

Fuel consumption
The first issue is fuel consumption. Despite our best efforts, using the Active ECO mode and resisting the turbo's addictive spool of power, we've not been able to lower our average below 14L/100 km. This is far off the predicted combined number of 9.8L/100 km. In fact, our numbers are somewhat frightening.
This has been our overall average from the onset of the long-term drive, which includes a few cold winter months. Even though the temperatures have risen as of late, we've not noticed any significant drop in fuel numbers in the last little while.

Transmission questions
The other niggles included an uncooperative transmission after a cold start. The unpleasant slipping followed by a second gear slam occurred on a few occasions. After the first few incidents, we did drop our 2013 Santa Fe off at the dealer for a check. They were unable to replicate the issue in similar cold conditions. We are happy to note that the transmission has been working as expected since.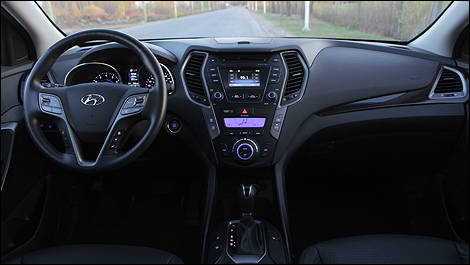 Photo: Philippe Champoux
A few noises
Lastly, we've been dealing with a few rattles. One of which is a known problem and it originates from the dashboard. Hyundai have addressed the vibration on their production line.
And now, the good
And the good points are the ones that keep us coming back for more.

Handsome as heck
It's been four months since our 2013 Hyundai Santa Fe Sport SE showed up at Auto123.com HQ and we still stop and take a moment to soak in this child of Hyundai's Fluidic Sculpture design philosophy. Truly, this is a good-looking CUV, regardless of trim.
Spacious and comfortable
The roomy cabin scores numerous hole-in-ones as well. Five passengers can comfortably be seated, if for a brief romp in the country. Regal levels of well being are a given with four people on board, even during the coldest winter months as the rear bench is heated.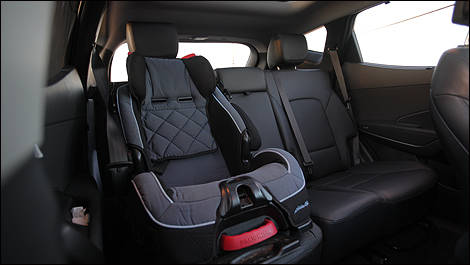 Photo: Philippe Champoux
Loaded with value
And that brings me to the next home run: equipment. To get the level of kit featured in our Santa Fe Sport SE, one could have to spend well into the $50k range, depending on the brand. At just over $35,000, the Sport SE is a bargain. And it's fast.

Serious power
The 264 hp turbocharged 2.0L 4-cylinder engine is decidedly packed with power. Never suffering from much lag, the mill's torque is fully on tap as of 1,750 rpm and the Santa Fe really takes off. Now, I know what you're going to say, but we are not driving the Hyundai like we stole it every day. The fuel numbers are based on real-world driving.
Family friendly
The 2013 Hyundai Santa Fe Sport is a great family friendly vehicle. Should the Sport not be enough, worry not as Hyundai has you covered with the longer wheelbase Santa Fe XL.
As a large compact or compact midsize crossover, the Santa Fe offers up plenty of room for a pair of car seats and two strollers in the trunk with space left over for day bags and more. In the video, I slide in the large
4moms origami stroller
depth-wise and the hatch easily closes: bonus.
About the child seats (as Miranda demonstrates), they are easily installed and given the available room, you need not be a hair over 5-feet tall or less to set one up.
The mid-point
Having crossed the midway mark of our long-term test of the 2013 Hyundai Santa Fe Sport SE, we continue to amass comments from staff members. For our final installment of this test, we plan to publish a number of these insights in the review.
We will also do a final video review on the Santa Fe where we will pinpoint our top "thumbs-up" and "thumbs-down" as well as give it a final score.
As always, we welcome your comments, especially if you currently own one.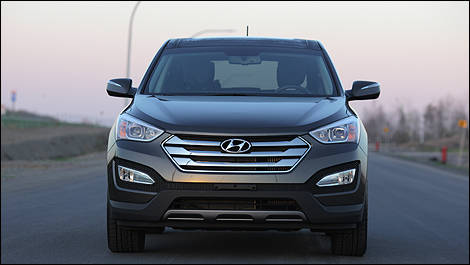 Photo: Philippe Champoux
Road Tests and Reviews

Consumers
2013 Hyundai Santa Fe 2.0T SE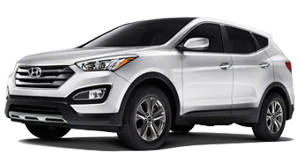 2013 Hyundai Santa Fe 2.0T SE