MARBELLA, Spain -
Janis Joplin said it all when she sang the words,
Oh Lord, won't you buy me a Mercedes-Benz
!
Now I'm sure most of you have heard those famous lyrics, but how many of you have actually sat down and contemplated precisely which Mercedes model Janis was yearning after? Well I have. In fact, without directly contacting the lady herself to confirm this, which would be rather difficult as Janis sadly passed away back in 1970, I can almost guarantee that she was referring to the famous SL convertible.
The year was 1954 when Mercedes-Benz stunned the world with its 300SL ("
Super Leicht
" or Super Light), known fondly as the
Gullwing
because of its stylish upward-swinging doors. Billed as the fastest production car of its day, and based somewhat on a successful race car, the roadster version debuted in 1957 and the history of the drop-top SL began.
For nearly 60 years, the SL-Class has combined elegance and comfort with that of startling performance, and many famous names have enjoyed them: Pierre Elliott Trudeau, Princess Diana, Frank Sinatra and Grace Kelly to name but a few.
However, we must now zip forward to the present-day launch of the 6th generation and pose the question: is the SL still the must-have dream convertible of its day?
Well, having just returned from road-testing the vehicle, I'm going to answer that in the affirmative.
The new 2013 Mercedes-Benz SL 550, (known as the SL 500 in Europe), is everything plus what I expected it to be. Comfort and styling is as evident as ever and yet the new SL brings much more to the table.
Obviously, with more and more manufacturers clambering for a share in the prestige market, Mercedes-Benz must maintain its reputation for delivering innovation to stay ahead of the pack, and I believe this vehicle perfectly demonstrates the company's commitment to this.
The SL is still the must-have dream convertible of its day. (Photo: Kevin Corrigan/Auto123.com)
The new SL, for the first time, is made almost entirely from aluminum and weighs 275 lbs (125 kg) less than its predecessor. This, together with MB's new BlueDIRECT engines which are up to 29% more economical, yet more powerful, combine to provide exhilarating performance while maintaining the comfort and smoothness which Mercedes-Benz customers have come to expect.
Most companies claim to be innovative today, yet Mercedes-Benz can back this up with features like its unique Harman/Kardon Frontbass sound system which provides concert-hall quality, regardless of whether the convertible top is up or down.
Another impressive feature of this vehicle is its Magic Vision Control which supplies heated washer fluid from the wiper blades directly onto the windscreen. The latter is perhaps one of the simplest, yet smartest innovations I have witnessed from a manufacturer of late. After all, I'm sure I'm not the only driver who has cursed the wind as he attempted to clean his windscreen at highway speeds!
The new 4.7L V8 in the SL 550 provides 435 hp (12% more power than its predecessor whilst being 0.8L smaller in size), and torque is up by 32% while the fuel economy numbers improve by 22%.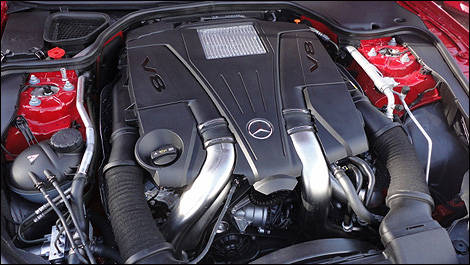 The new 4.7L V8 in the SL 550 provides 435 hp. (Photo: Kevin Corrigan/Auto123.com)
You must admit, those figures are impressive to say the least, and yet it is in the drive where one gets to fully appreciate these improvements. The new SL-Class feels like a vehicle which has just returned from several weeks at a premium health club. The car feels light and agile and supplies any number of driver modes between top-down cruising comfort to all out road/race exhilaration! It truly is a multifaceted automobile which, of course, is precisely what the SL has always been known for.
As the old saying goes,
safety comes standard
, and because the SL has always been known for this, the new generation steers the same course. The new SL boasts Acceleration Skid Control (ASR), ESP, ABS, Brake Assist (BAS), ATTENTION ASSIST, dual-stage front airbags, Torque Vectoring Brake, NECK-PRO crash responsive head restraints and, of course, it's renowned power-deployed rollover bar.
The car feels light and agile and supplies any number of driver modes between top-down cruising comfort to all out road/race exhilaration! (Photo: Mercedes-Benz)
Canadian SLs will differ slightly from their European counterparts by sporting the attractive AMG styling kit as standard and there will only be two additional packages available. The Premium, which offers such niceties as climate comfort seats with built-in driver dynamics, a rearview camera, hands-free access, EASY-PACK power trunk closer (you simply slide your foot underneath the rear bumper), and the famous AIRSCARF for those spring-like mornings. Then, the Advanced Driving Assistance Package which includes DISTRONIC PLUS, blind spot assist, and active lane keeping assist.
At present, we're still waiting for final pricing to be announced. However, we expect figures to stay fairly close to the current pricing of around $126,000.
Canada will also get the special Edition 1 model, albeit limited to just 10 vehicles and, again, no pricing thus far. This adds Crystal Silver metallic paint, exclusive red Nappa leather upholstery and piano black wood trim. I was rather fortunate to be able to drive one of these during the launch and can vouch for its attention drawing qualities.
Apart from one or two minor irritations such as the slightly-less-than-perfect navigation system and the stylish, yet somewhat faux, front fender air vents, I'm delighted to say that the new
2013 Mercedes-Benz SL
lives up to its famed heritage.
The new cars are expected to arrive at Canadian dealerships in the next few weeks, so if you're in the market for the quintessential open-top roadster, you owe it to yourself to check one out!
Key Competitors