Sometimes, you've got to roll with the punches. On our selected test day, Mother Nature was fully intent on releasing and demonstrating the power of her pent up winter fury. By 9 a.m., not only were we under nearly 20 cm of snow, but we were an hour behind schedule and still missing two players.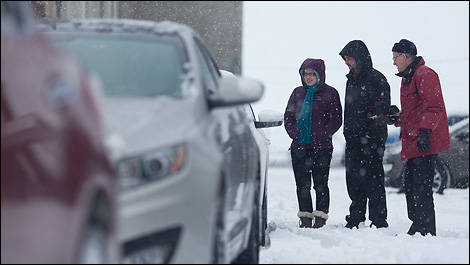 Tough conditions - not uncommon in Canada and a large portion of the United States. (photo: Sébastien D'Amour)
However, as they say; the show must go on. Our plan for the day differed little from our usual exercises. Sadly, our late start and blustery wintery conditions made progress slow and arduous, and so our strategy had to be modified.
Time might have been an issue, however, the cars were not. All equipped with winter tires, we set off on our way, albeit at much reduced speeds.
On this day, we once again discovered a company of cars that all had a number of strong points going for them and very few negatives on which to harp. Even in these tough conditions -- not uncommon in Canada and a large portion of the United States -- certain cars stood out, while at least one slipped behind.
Once more, the newest players took the bar and pushed ever closer to perfection. Our previous favourite car, the Kia Optima, is the one that felt the brunt brought on by the latest in styling and technology. As you will see though, all-new need not mean all-good, but that simply proves the point that competition is fierce.
There are two side-notes to this comparison test: The first is the marked absence of one
2013 Ford Fusion
which, because of an ongoing recall campaign and a believed shortage of parts, could not make it on test day. We were upset to learn that the new Fusion was to be left out as we know it would have done very well.
The other note pertains to tires of the winter persuasion. Three out of the five vehicles were shod with
Michelin's new X-Ice Xi3 tires
. Last winter, Matt evaluated these new tires and was thoroughly impressed with their performance.