Regardless of what letter or words you place after its name -- whether c or v or Plug-in --
Toyota's Prius
is an ambassador for amazing fuel economy. However, they're not always the most exciting to drive.
Does that really matter in a commuter setting? In stop-and-go traffic, we're all equals. Even if you have a supped-up Supra, FR-S, or Italian-stallion sports car, we're all inching along complaining about how much it sucks and griping about where we have to be in 17 minutes... 16 now. Ticktock.
Even when you do catch a break, chances are you can't open the car up that much anyway. Or if you do, you always run the risk of having a stern talking to (or more) by local law enforcement agents.
However, of all the Prius family members (there are four), the c -- which stands for city -- has the most personality and doesn't entirely leave the fun-to-drive factor out of the equation. So, I'll call it the Prius pf (personality fun) from now on -- or maybe not. I'll leave the nomenclature to Toyota.
What is the 2013 Toyota Prius c Technology?
The Prius c is the baby of the Toyota Hybrid Synergy Drive-powered vehicles. It's also the smallest of the bunch, but has room for five and 481 litres of cargo space behind the rear seats.
Draped in a Magnetic Grey Metallic coat, I find it has some character in its lines and is kind of cute.
2013 Toyota Prius c Technology Price and Specs
When it comes to pricing, the MSRP of the 2013 Prius c Technology is $23,415. With the fees and destination charges, it amounts to $25,115.20 (excluding tax). However, if you just want the pure pleasure of driving a Prius c, minus the fancy bells and whistles, that has a base MSRP of $20,440.
Amazing fuel efficiency results can be attributed to the Toyota Prius c's 1.5L, 4-cylinder engine combined with an electric motor, Sealed Nickel-Metal Hydride (Ni-MH) battery pack and a Continuously Variable Transmission (CVT).
Driving the 2013 Toyota Prius c Technology
On paper, the car's net horsepower of 100 doesn't seem like a lot. It's not, but it's sufficient for romping around town. Off the line, the 2013 Prius c Technology is not winning pink slips. Then again, that's not what it was designed and engineered to dor.
What it was designed for is amazing fuel economy. The 2013 Toyota Prius c Technology sips an estimated 3.5L/100km in the city and on the highway 4.0L/100km for a combined consumption of 3.7L/100km.
For even more efficiency, press the ECO Mode or EV Mode button, located by the hand brake. The EV mode allows you to drive in electric mode at lower speeds, therefore saving you more fuel. It's perfect for snail-speed situations, not that there's anything perfect about gridlock!
Inside and Out of the 2013 Toyota Prius c Technology
Inside, there's a welcoming setup and one that has user-friendly written all over it. You're greeted by comfy seats, an easy-to-use centre stack and a gear selector that is unmistakably Prius. What does that mean? It's capped with a blue top reminding you that you're in a hybrid. Although, the real reminder comes at the pump.
The steering-wheel-mounted controls allow you to adjust things like temperature settings, audio mode and volume, but also display them on the digital dash above the centre stack. That way, you don't have to look down at the wheel when adjusting the various functions.
The "Technology" designation adds to this 2013 Prius c a display audio system with navigation.
It features a 6" touchscreen, Bluetooth with wireless music streaming, and a unique "text to voice" feature that converts text messages from your phone into voice messages through the speakers.
Along with the navi system, there's a standard Multi-Information Display which shows such information as driving range, fuel consumption, elapsed time and outside temperature.
Just what I need: The 2013 Toyota Prius c Technology can evaluate my driving habits! However, it's for the greater good. It shows how you can save on fuel and improve your overall driving experience.
Comparing the 2013 Toyota Prius c Technology
As for the Prius c's competition? Well, there really isn't a direct hybrid competitor. There are compact cars with impressive fuel numbers like the
Hyundai Accent
,
Nissan Versa Note
,
Honda Fit
or
Chevrolet Sonic
.
This 2013 Toyota Prius c Technology review was originally published on Auto-Venus.com.
Road Tests and Reviews

Consumers
2013 Toyota prius Technology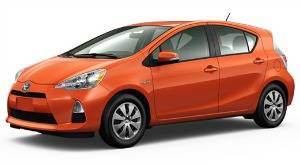 2013 Toyota prius Technology