What happens when you want it all? The best of both worlds; your cake and to eat it, too? Most would laugh and say you're asking for too much, that you don't understand how life is and that we all have to make compromises along the way, that's just the way the world works. Well, we're here to tell you that those people just haven't heard the term "Grand Coupe" -- and it's high time they did.
See, there's no need to give anything up along the way, in fact we're all for bigger is better. Less is more? We think not.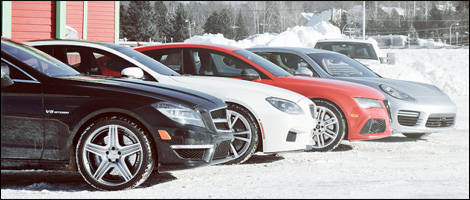 These four-door automobiles drive and handle like coupes. (Photo: Auto123.TV)
So, that's precisely why we gathered a group of larger-than-life vehicles to prove that there really is a solution for those who don't want to sacrifice, don't want to compromise, when it comes to their daily drivers. While these individuals may have outgrown their sport coupe models and are in need of more space, they don't want to give up that sporty, responsive ride. What to do? Why, buy a grand coupe of course.
What exactly is a grand coupe? Well, in simple terms it's a four-door coupe. Confused? Don't be. Vehicle designers conjured up a nifty little way to maintain the coupe shape of their vehicles without losing two doors. Along with that external design they also managed to engineer their four-door automobiles to drive and handle like coupes, too.
No compromise needed.
If you're in the market for such a vehicle, your choices aren't just grand in size, but also in performance and price. So, how to choose the best? Well, we decided to do the legwork for you (and what truly hard work it was, trust us) and we put together a quartet of grand coupes. Despite the below-zero temperatures and fresh layer of snow, we put these grand rides to the test (three of the four were equipped with an all-wheel drive system anyways, so why not?).
The players? In no particular order: the
2014 Porsche Panamera Turbo Executive
,
2014 BMW M6 Gran Coupe
,
2014 Mercedes-Benz CLS AMG
, and the
2014 Audi RS 7
. All grand. All German. All good.