When it launched in 2009, the new Regal defied typical Buick traits by being a properly agile sports sedan instead of a massive, geriatric land-sponge with a chassis made of pizza dough. New, fuel-saving engines, new features, and new styling all helped the Regal put a younger shopper in its crosshairs.

What is a 2014 Buick Regal Turbo AWD?
In a nutshell, 2014 sees the Regal become a slightly more potent and capable version of its former self. Engineers and designers worked to make things even more relevant, partially by delivering more of the features, hardware, and attributes popular with entry-luxury shoppers. Those shoppers will notice revised styling, a more confident presence, and a fresh new take on the Regal's signature blend of athletic character and classiness.

With more power from the turbocharged 4-cylinder engine standard on most models, they'll notice the Regal has become a bit of a rocket, too.
For the first time in a Regal, that engine is hooked up to an all-new AWD system designed by Haldex for all-season traction, confidence, and stability with an eye for impressing those active on Canadian roads 365 days a year. The fast-acting AWD system splits power between the axles in milliseconds to keep drivers going though even the crankiest of Mother Nature's climatic mood swings.

2014 Buick Regal AWD Prices and Specs
For 2014, the Buick Regal starts at $34,795 with turbocharged power and front-wheel drive, with a mild-hybrid e-Assist powered front-drive model ditching the turbo and adding a battery-driven electric motor from $36,425. Turbocharged AWD models open the bidding at $37,075, and my tester, with the Premium II package and AWD landed around $44,000 with some options.

Driving the 2014 Buick Regal AWD
Fitted with Michelin X-ice winter rubber to support the AWD system, the 2014 Buick Regal AWD felt unstoppable in deep snow, slush, and was driven for three hours through conditions that resulted in a highway closure on one trip I attempted unsuccessfully.

Plenty of power is transmitted to the front axle to keep the Regal on course and planted when pushed around in the snow. The AWD system isn't instantly frisky or tail-happy, which is great for a driver after an AWD sports sedan that feels stable, predictable, and locked-on.

The suspension is sprung with a comfortable tautness that's firm without being uncomfortable, and younger drivers will appreciate how the suspension always talks to them, and how it's always ready to support the 2014 Buick Regal in ripping around fast bends with an eye for agility and poise. This is a confident car when pushed, should you find occasion.

The steering and brakes aren't quite as sharp and athletic as the suspension, and have a touch of softness dialed in around the edges which contributes to laid-back highway cruising. A quiet ride adds to the effect. Ultimately, the Regal should impress a test-driver looking for a rig that's a fair bit sporty, but still comfortable overall.

The new 2.0L turbo 4-cylinder cranks out 259 horses, which shouldn't leave most looking for any more jam. The midrange torque is almost face-peeling which makes for impressively quick highway passing, even if the engine is nothing special to listen to.

Over a week, I most appreciated the 2014 Buick Regal's ride and suspension, both in terms of the above-average handling abilities and a robust, honed, solid and well-built feel over the roughest of roads. Even travelling over potholes and ice ruts at 30-degrees-below where bushings, shocks and struts are stiff and frigid, Regal's ride remains quiet, tight, and refined.

Inside and Out of the 2014 Buick Regal AWD
Inside, the revised cabin gets a new centre stack as its design centerpiece to make room for a new easy-to-use IntelliLink infotainment and communication system. It's ritzy, but not decked out with more fake chrome than the front row of a 50 Cent concert, almost everything is intuitively laid out, and the heated steering wheel and touch-activated climate controls were slick. Ditto for the much-loved remote start which saw frequent use during a January cold snap, er, Polar Vortex.

The cabin of the 2014 Buick Regal AWD, though pleasing to look at and mostly nice to touch, was also my largest source of complaint. First, rear-seat headroom is confusingly tight. I'm about 5"11 on a good day, and I had, maybe, a quarter-inch of headroom to spare. Further, the heated-seat touch-pad controls won't activate if you're wearing gloves, which you will be, because you're cold.

The instrument cluster, further, is hard to read: the numbers wrap to the dials, meaning many of them are sideways or upside down -- not to mention too small. The entire thing is back-lit in grey, which is gross and made me want to cover the whole thing with a paper bag.

Comparing the 2014 Buick Regal Turbo AWD
Shoppers are advised to compare the 2014 Regal Turbo AWD to any number of other semi-sensible, go-fast, AWD models from Volvo, Acura, Chrysler or Lexus. A Ford Fusion in its highest grade with EcoBoost power and AWD makes a compelling cross-shopping endeavor, thanks to a more striking cabin and more interior space.

Road Tests and Reviews

Consumers
2014 Buick Regal Turbo Premium II AWD 1SP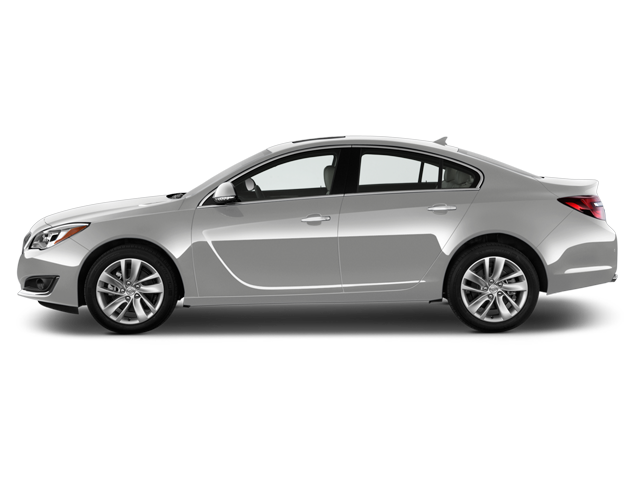 2014 Buick Regal Turbo Premium II AWD 1SP